Veterans' Lounge opens in Campbell Student Union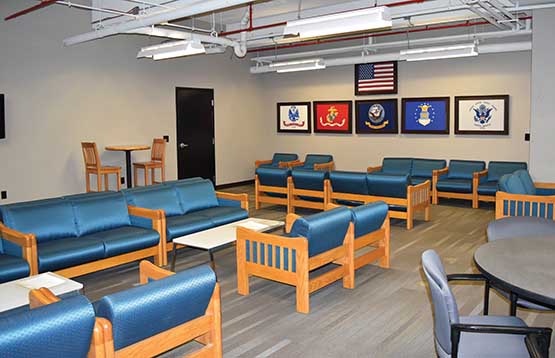 The Veterans' Lounge is located in the Student Union right next to the game room on the basement floor. It was opened late last semester when President Conway-Turner and Jon Battison, student head of the Student Veterans of America (SVA) at SUNY Buffalo State, formerly cut the ribbon.
"It was really exciting, there were a lot of students there," Conway-Turner said, "as well as alums who were telling me about how they feel envious, and wished they had that when they were there."
"The ceremony went very well, I was surprised by the show of support from the school," Battison said.
Buffalo State is considered a "military-friendly" school and supports veterans, as well as current members of the military, in many ways. Dr. Margaret Shaw-Burnett broke down what this means.
"There is a checklist for what it means for colleges to actually work with military students and we have to meet that list of check-offs," she said. "We exceed in that. In the latter part of 2008 to 2009, we focused on what we actually do for veterans, and that's when we started the One-Stop Center."
The One-Stop Center is a place where all resources are pooled into one department to deal with military needs.
Many veterans have different needs depending on when they joined military service. Buffalo State strives to meet each of these obstacles, whether they be financial, or even mental.
"What the students had said before is that they really wanted a place that veterans could come and congregate and have discussions. We have a wonderful counseling program, so students can take advantage of those services, but the veterans said that it was also good to be able to come together and talk to others that are experiencing similar problems or been in the same situation," Conway-Turner said. "So, while it's not the direct service the counseling services would offer, it's the kind of networking that can be helpful. We also have a listing of all the resources for veterans in the area so we can connect them to that."
Often what veterans need the most is a clear, supportive path into today's workplace. Shaw-Burnett works with the VA to determine what benefits each soldier needs, as well as their families.
"We can help a military student do some pre-planning, meaning if they're interested in coming to college, we have a financial calculator and that student is able to look at what determines you to have enough money for that school. That helps deciding which school they'd like to go to," Shaw-Burnett said.
By working to help the military community, Buffalo State has worked well for Jon Battison. At 27 years old, he is taking electrical engineering, along with serving as president for the SVA at Buffalo State. Battison graduates next year.
"I think the military-friendly status helps veterans identify what schools are better for them to go to," Battison said. "One of those things is having a Veterans' Lounge. The other things include helping veterans having a VA representative at the school and give them better access to their benefits.
"I hope there will be more (veterans). We're supposed to be a school that reaches out to veterans to come out of the military and join the workforce in a smooth transition," Battison said.
The Veterans' Lounge is open every day and will hold general meetings every Friday at 12:30 p.m.
email: [email protected]