Podolefsky loses fight with cancer shortly after resignation
President will be remembered for swift contributions to Buffalo State and its surrounding communities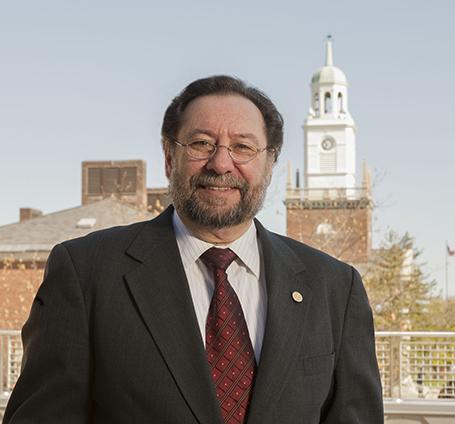 Aaron Podolefsky, who announced he would resign as president of SUNY Buffalo State in July, passed away Aug. 8 at his Buffalo home surrounded by friends and family. He was 67.
Podolefsky had battled prostate cancer since he publicly disclosed his diagnosis to staff and students in the fall of 2011. A campus memorial service is being arranged for this fall.
Howard Cohen, chancellor emeritus at Purdue Calumet University in Indiana, took over as president on an interim basis on Aug. 1. Cohen will remain in his position while the college conducts a search for its ninth president.
"We are profoundly saddened by the loss of this cherished member of the Buffalo State family," Buffalo State Council Chair Howard Zemsky said in a statement. "Dr. Podolefsky was the embodiment of the welcoming, engaging, and collegial campus culture that defines Buffalo State. His wit, wisdom, and kindness will be immensely missed."
Podolefsky, who became Buffalo State's eighth president when he succeeded longtime President Muriel Howard in July, 2010, will be remembered for his steadfast contributions and easy-going demeanor that endeared him to staff, students and colleagues.
"Aaron was a true educator, trusted colleague, and compassionate leader," SUNY Chancellor Nancy Zimpher said in a statement. "His commitment to Buffalo State, to Western New York, and to the public mission of our State University was unwavering."
In his three years as president, Podolefsky oversaw nearly $150 million in major renovations to the campus, including new student dorms, phase one of the Science and Mathematics Complex and the erection of the Technology Building, which opened to students this fall.
Podolefsky's ambitious visions for Buffalo State also led to its first comprehensive fundraising campaign, "Transforming Lives," and he was instrumental in the college's contributions to the surrounding West Side and Elmwood Village communities.
"No matter how much we have grown in enrollment, expanded in mission, created new programs and transformed how we teach and research, our core purpose remains," Podolefsky said in his inaugural speech in 2010. "Buffalo State continues to be 'the people's university' to serve the public and to act in its best interest."
Podolefsky announced his cancer diagnosis in 2011 and underwent treatment while in office.
He was absent from last year's commencement ceremonies — an event he took great personal pleasure in attending each year — on May 18 because he was taking part in a clinical trial at Roswell Park.
In June, Podoelfsky announced the demands of his treatment had grown too great, forcing him to go on sick leave. He then announced his resignation in July, effective July 31.
Podolefsky began his career in higher education as a professor of anthropology, an area he held two master's degrees and a doctorate from Stony Brook University. He taught at West Virginia and Western Kentucky universities and was the chief academic officer at the University of Northern Iowa.
Prior to arriving at Buffalo State, Podolefsky served for five years as president of the University of Central Missouri, where a memorial service was held by former colleagues days after news of Podolefsky's death reached the southern campus.
Details on Buffalo State's campus memorial service have not yet been announced.
Podolefsky is survived by his wife, Ronnie; two sons, Noah and Isaac; and three dogs, Harry, Mishka, and Cannoli, Buffalo State's "first dogs," as Podolefsky affectionately called them.
Leave a Comment