Reflecting on history 20 years later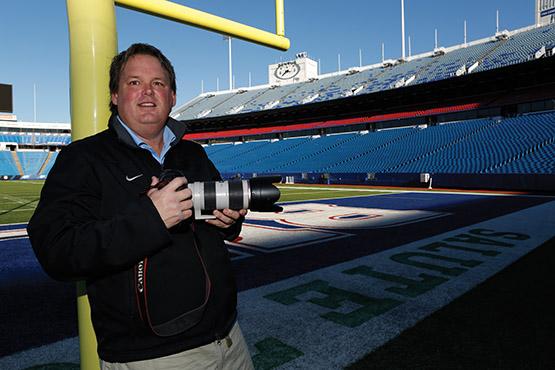 This month marks the 20th anniversary of the unsolved deaths of Nicole Brown Simpson and Ron Goldman. Depending on who you ask, it also marks the vindication of a professional football hall of famer, or the failure of our justice system to convict a murderer, OJ Simpson.
Simpson, for better or worse, is one of the most well-known players for the National Football League's Buffalo Bills (1969-1977).
The story of The People of the State of California v. Orenthal James Simpson is so Hollywood with its murder, mystery and sex, that's it's easy to forget that there is a Buffalo connection beyond that of OJ's play for the team. That connection is Harry Scull Jr.
Scull, a 20-year-veteran photojournalist for The Buffalo News, is the photographer whose work, had it been available, might have changed the outcome of the so-called trial of the century.
On Sept. 26, 1993, Harry snapped a photo of OJ Simpson walking through the Miami end-zone of a Bills' Miami game at Rich Stadium. That act in and of itself may not ever have been a big deal, except for one critical detail: in the photo, OJ wore a pair of size 12 Bruno Magli Lorenzo dress shoes. The same shoes that, according to FBI Special Agent William Bodziak, left prints at the murder scene of Nicole and Ron, nine months later. Only 299 size-twelve pairs of the shoes were sold in the United States.
"I could see the similarity with my naked eye," said Scull, who seriously doubts OJ's claim that he "…would never wear those ugly ass shoes."
In fact, attorney Daniel Petrocelli, who represented Ron Goldman and Nicole Brown-Simpson's family in the civil trial, told Stone Phillips of Dateline NBC that the photographs were a key part of winning the civil trial.
"…we proceeded to show him [OJ] picture after picture, until the jurors couldn't even look at him anymore," Petrocelli said. "And they started looking down at their shoes. And it was as obvious as it could possibly be that a witness was lying."
Scull is somewhat dismissive of the photographs 20 years later. He mentions that he'd have liked to have heard back from Petrocelli following the trial. But he doesn't credit the photos with having established his career.
"I don't know what it meant [for my career]," Scull said. "I'd like to think that I established myself before that point. But there isn't a week that goes by that I don't hear about it from somebody."
Scull took up photography in high school. He would borrow his father's camera as often as he could. But it was while he was in college that his career began to take shape.
While attending SUNY Buffalo State, he majored in criminal justice and minored in photography. Scull also worked as a photographer and photo editor for The Record, and simultaneously found early success getting freelance work with the Associated Press, and Time Magazine.
According to Scull, finding that kind of success these days would be much more difficult. "…they were hiring a lot more freelancers back then," Scull said, "so, I think now it would be hard to go out and be strictly a photojournalist."
Scull is no exception in an ever-evolving workforce. Even with his early success, and following the OJ trials, he's held various positions, in studios, and working as a private event photographer when he's needed to.
These days, Scull is 1 of 8 full-time photojournalists for The Buffalo News, which despite being a successful paper, is down to eight full-time positions from 13. Having one of those positions, he feels "…beyond blessed by the Lord…" he said, for the opportunities he's been given.
A life-long Buffalo sports fan, Scull's one regret is not having photographed a Stanley Cup or a Super Bowl trophy being hoisted in the air.
"I love every minute. Sometimes I have to pinch myself because I can't believe I get to do it," Scull said. "I've gotten to do some amazing things at the paper that I wouldn't have gotten to do on my own."
Scull gives the impression that he feels he owes something for the life he's had. And these days, he spends his free time giving back to his former high school, Springville High. He helps out by taking headshots for the football team, and has even mentored a few aspiring journalists.
One thing Scull stresses to the journalists he mentors is a willingness to be adaptable and versatile in their skill sets if they want to make it in today's workforce.
"I think it is what you can offer… If you can write, shoot pictures, use Photoshop and shoot video you can go anywhere you want to go," Scull said. "If you can do that, who wouldn't want to hire you."
While that set of skills is job-specific, the idea behind it is good advice for any student stepping out into any career field, and Scull's career is a testament to it. By being dedicated day-in and day-out, and by learning as much as one can about their field, they increase their chance for long-term success. And who knows? Like Scull, your work might even land you in the limelight once in a while, or bring some semblance of justice to the world.
email: [email protected]