Pride Alliance parades for LGBT awareness, equality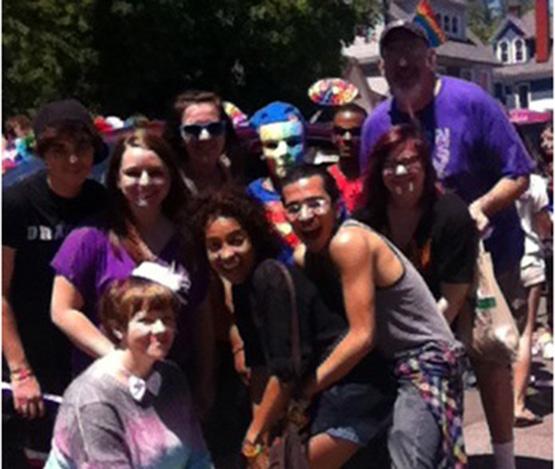 The only drag to be found on Elmwood Avenue in the beginning of June was in the form of queens, as Buffalonians lined the streets to celebrate Pride Week.
Rainbow shirts, flags, bracelets and glitter filled the streets near the harbor, where the Buffalo Pride Parade took place on June 2. There was a festival by the waterfront and also live entertainment, including musical guests Neon Hitch and local Buffalo band Poindexter. Latrice Royale, a former contestant from RuPaul's Drag Race, also made a special guest appearance.
Buffalo State Pride Alliance, a support and socialization group for LGBT and allied youth, marched and led the universities in the parade along with SUNY Fredonia and University at Buffalo.
The atmosphere was flooded with laughter and excitement as the LGBT community and straight allies dressed to show their gay pride and support.
"One of our members got dressed up as a gay superhero," said Melissa Ruiz, Pride Alliance's former public relations officer. "She had a rainbow cape with a mask on and was running around giving bracelets out and entertaining the crowd.
"We had a drag king as well. It was a lot of fun."
Cassandra Crimmen, a member of Pride Alliance, marched in the parade and also recently volunteered with Heritage of Pride in New York as a section leader in the city's pride march. She said she would never want to miss out on Buffalo's parade.
"The parade creates a great sense of solidarity within the colleges and in the community at large," Crimmen said. "I specifically waited to leave Buffalo for the summer until the parade was over so I could play a role.
"It's the one day where we're encouraged to catch attention, and that can be a lot of fun."
The parade plays a significant role in the history of the gay community and its existence represents how far the LGBT world has come.
"The parade shows how much society has changed and has become more accepting," said Christopher Davis, Pride Alliance's current public relations officer. "In the past, many people would not be willing to walk in the parade or even attend it.
"By having a Pride event and having people who are willing to attend and show they are a part of the gay community, or show their support of the gay community, is important."
The Pride Alliance is a group that allows students to come to a safe environment on campus where they can express themselves in a positive way.
"A group like Pride gives people a place to be open and comfortable with themselves," Davis said. "Even though society has become more comfortable with people who identify as gay, there are few places where they can be considered the norm."
"The Pride Alliance is vital on campus because it is the closest thing to a safe space as we have," added Crimmen. "We can express ourselves without quite as much fear of being judged."
Being a member of the Alliance is more than just being a member of the club for students. They form friendships and relationships that last longer than the four years spent on campus.
"The best part of pride is the people," Davis said. "No matter what we are doing, our drag show, College Warz, tie dying, camping, ice cream socials; it's all about the people you befriend and the bonds we make as an organization."
Sereluca wants Pride to focus on ally-friendly programs and events this coming semester, in order for it to be a group for everyone to share their feelings in a welcoming place.
"I've heard that some people don't come to Pride because they think you have to be gay to feel accepted," Sereluca said. "But that is not the case.
"We want to create an environment where anyone can come up and feel welcomed during our GI's and events."
Caitlin Kupiec can be reached by email at [email protected]
Leave a Comment