Move over 'Hut on Stilts,' theres a new press box at Coyer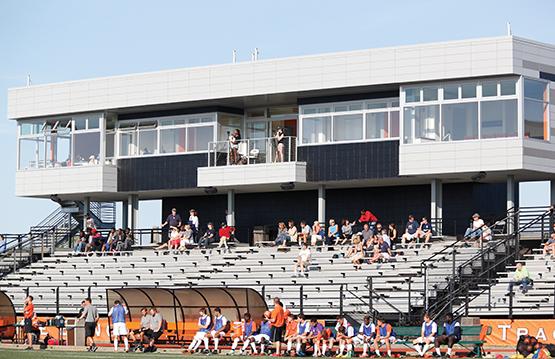 After nearly a year of construction, SUNY Buffalo State's new press box at Coyer Field has been finished.
Construction began during the summer of 2014 when the campus had the funds to pay for the expenses. Construction cost approximately $1.9 million and was funded by SUNY. The original press box had been deteriorating for some time, as it had been standing for nearly 30 years.
"It was called 'The Hut on Stilts,'" Athletic Director Jerry Boyes said. "It served its purpose, and was in complete disrepair. The roof leaked, and there was no place for filmers. They had to go on the roof. The front windows got so warped you couldn't close them."
"It was a joint effort between facilities planning, athletics and the college administration," Jeffery Ventura, assistant director of athletics, said. "The design and construction process went smoothly."
"It's a little bit of a bigger area with fixed theater style seats, it has actual sinks and restrooms," Boyes said. "People still film outside but the area is actually covered. In the past we just used tarps to cover them, but it wouldn't protect from the elements. Now there are side walls so people and equipment are protected."
The new press box offers a variety of new features, the most important including wireless and hardwired Internet access, a covered video deck, indoor coaches' suites, restrooms, handicap accessibility, heat, an expanded VIP suite with air conditioning, and a dramatically improved sound system.
"It got us into the 21st century from a tech standpoint," Boyes said. "Before we couldn't live stream games. We didn't have computers, no Internet. Now the press box is 'technology savvy,' and has all the amenities every other press box has."
"The covered video deck with Internet also allows us to better serve our student-athletes, their families and fans by offering live Internet video streaming of outdoor home games for the first time," Ventura said.
"It's what everyone has been doing forever, but we couldn't," Boyes said. "Now we have the capabilities, and parents who couldn't make it to the games can watch it through our website."
It also features a new presidential VIP suite.
"The President's VIP suite is an important space as well, for the president's office to entertain and cultivate important supporters of the college." Ventura said.
The press box is an important feature to Buffalo State's campus. Ventura describes the new press box as giving Coyer Field more of a "stadium feel" that "visually dress[es] up the Grant Street entrance of campus. It also enhances rental opportunities for Coyer Field."
Having a new press box also helps with recruiting student athletes.
"Renovations are crucial to recruiting," Boyes said. "If students see a nice, updated well-kept campus, they go 'Wow this is nice, geez I want to go to Buffalo State!'"
"The primary purposes of the press box are to provide appropriate work spaces for game management of football, men's and women's soccer and women's lacrosse games for coaches, home and visiting radio, TV station personnel, video personnel, media and game operations and statistical crews," Ventura said.
The improved technology brings more opportunities for those involved in the athletics department.
"It is a great new space to work and entertain guests during games," Ventura said. "It provides a comfortable heated space with appropriate technology for professional staff, student workers, official timers and coaches to work home athletic contests. It also provides first class broadcasting spaces for student radio and television stations."
The press box was finished in time to be used for Buffalo State's homecoming game, however there were some conflicts due to a campus-wide power outage.
"The power went out across all of campus right after the national anthem," WBNY General Manager Nick Lippa said, who was covering the game. "We used it before to live stream games. It's unfortunate and frustrating that the press box couldn't get full service at the football game."
Lippa added that this was an external campus issue, and if the power outage did not go out, the press box would have functioned perfectly and have "gone on without a hitch."
"The new press box is really great. It's 3,000 times better all around, it's exactly what they needed to do," Lippa said. "It's more convenient, more comfortable and there's more room to move around. It makes our lives easier, it has heat so you don't have to be freezing to death. There are plenty of outlets and no extra power cords. It's really built to cater to us. It's one of the best ones I've been in."
email: lambie.record@outlook .com