Buffalo State's neighbors offer intriguing destinations for students
Elmwood Avenue, Art District among top attractions located within walking distance of campus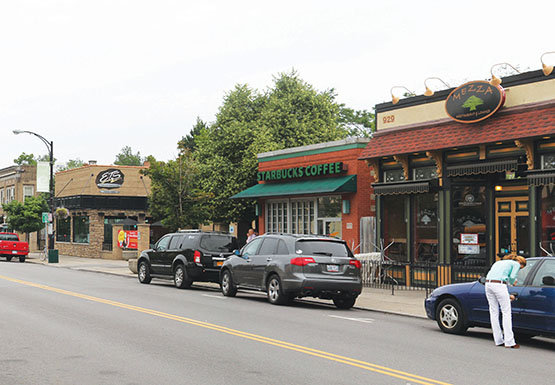 Students new to campus may be unfamiliar with what the area around Buffalo State has to offer. Local businesses near campus allow students to experience new places and eat different types of food.
"Buffalo has the big city things to offer with a hometown feeling," said Jane Schweichler, a fashion merchandising major from Caledonia. "I love running through Delaware Park and checking out the animals at the zoo, strolling Elmwood for coffee and gelato, or heading downtown for the night."
Behind the Albright-Knox Art Gallery across from the campus is where Delaware Park is located. Students can enjoy a nice day walking along the trails or sitting on the steps by the water.
"Delaware Park is a great place to just relax after a long day of classes," said Lauren Marotta, a communication major from Long Island.
The Elmwood Village is where students can go to enjoy shopping, restaurants, cafés, and other local businesses. Within a short walking distance, Elmwood provides students access to both day and nighttime activities. It's great for underclassmen who do not have a car — or know anyone with one — and prefer not to take the bus.
"I think places on Elmwood are best for freshmen; they are close and convenient," Marotta said. "Places like Panos and Spot are great places to go."
Many of the restaurants and cafés allow people to sit outside and enjoy the weather, when it obliges.
Aside from cafés and restaurants, the area around surrounding campus also features unique destinations like a gelato parlor or an organic supermarket.
There are businesses, which also include boutique stores, all around Buffalo State that offer goods and services specifically geared toward students.
"Sweet_ness 7 Café is close to the school and a great, less crowded place to go to," said Veronica Toeper, a psychology major from Honeoye Falls. "It's a good place to go for homework and get off campus for coffee."
Near the campus are also the necessary grocery stores such as Wegmans and Tops and a Target only a few bus stops away down the road. Students can also go to the movies nearby, or experience some fun at the bowling alley for a night.
"The movie theater near Target is cool," said Monica Tedesco, a dietetics major from Webster on the Regal Cinemas on Elmwood Avenue. "It's close to campus and it gives students something to do away from campus, which is nice."
Students can find their way around the Buffalo State campus with TUNdeals, a website and app that allows students to save money from local businesses.
"Buffalo is known to be a very diverse city and the local businesses around here capitalize on this fact," Tedesco said. "You can always find something new and great."
Lauren Coppola can be reached by email at [email protected].
Leave a Comment