Women's rugby clears 'Cuse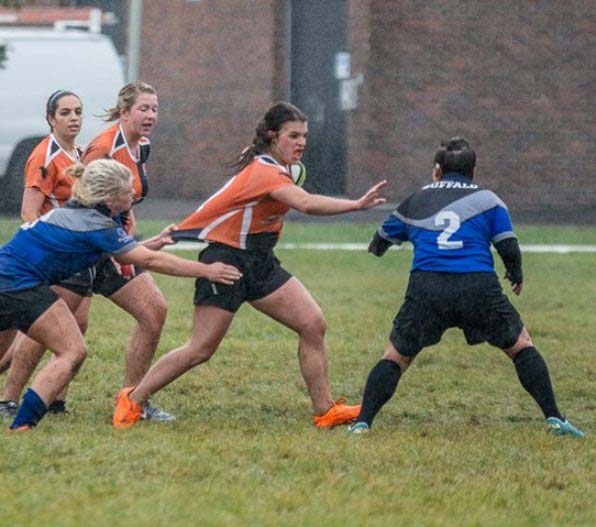 The Buffalo State women's rugby team is off to a strong start to their season as they left everything on the field on Saturday in a 28-26 win against Syracuse.
It was an important game for the ladies after losing to Syracuse last year by a single point.
"Syracuse is tough competition," forward Nicole Montanino said. "We wanted to prove something to them and we were able to do it."
As the ladies went neck-and-neck, the team played hard throughout the entire game.
"The game was filled with high energy," captain Mary Sica said. "It was the best I've seen my team play. We ran the offense and the defense really stepped it up".
With effective offense and stout defense, the team was able to pull off a win and played a clean game.  No yellow cards were distributed and only minor penalties were given.
Amongst many other game-defining moments, one thing that stood out was scrum half "quarterback" Lauren Stone's play. Stone was given the 'Unsung Hero of the Game' award by coach Jen Jenkinson.
"It was really an exciting, close game," Stone said. "It was tough last year, only losing by one point, but we played a smart game. It was rewarding getting the Unsung Award. I played a good game."
As the girls reflected on last year's loss, they likely had a feeling of redemption after the big win.
This week, the Bengals will get ready to play away against SUNY Brockport as they hope to bring home another win.
"There's always room for improvement," Stone said. "We will be working on tackling, conditioning and going over the minor offside penalties that were called this past weekend."