Volleyball enters season bitter following tourney snub
Senior Chelsea Moore will anchor Bengals' defense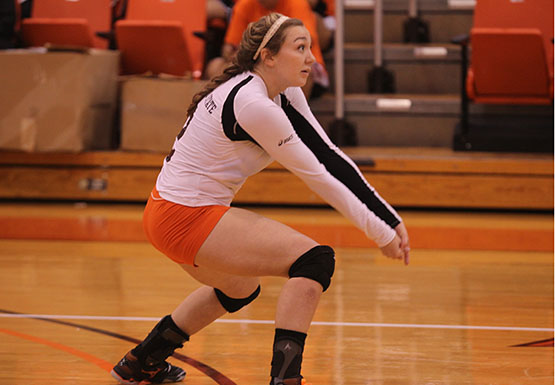 Junior captain Kelsey Bashore and the rest of the Buffalo State volleyball team gathered in the Bengal Room on a cold November morning last year to find out their fate, one day after losing the SUNYAC Championship game — and the automatic NCAA Tournament bid that went with it — to Cortland in straight sets at the Sports Arena.
After a record-setting season that saw the Bengals win 26 games and land five players on All-Conference teams, Bashore had high hopes that she would hear the selection show host call Buffalo State's name.
They watched on a big projection screen, brought in specifically to view the selection show, as the bracket's black bubbles were filled with schools from across the country, including some the Bengals had defeated earlier in the season.
Bashore and her teammates waited. About 20 minutes passed, and the 64th and final black bubble was filled, none being Buffalo State.
Just like that, their season was over. Bashore and the rest of the Bengals were devastated.
"We worked so hard last season, we got so far, and the disappointment that came with not getting a bid into the NCAAs was just so heartbreaking for us," Bashore said earlier this summer. "But we didn't let it get us down. It just made us want it that much more."
With almost everyone from last year's roster returning this season, the Bengals have high expectations that things will end on a higher note this time around.
"I expect us to be really strong this year," said Bashore, who is entering her senior season. "We have some good recruits coming in and we're very excited to work with them. I have a feeling that we're going to come in ready to win this year."
Bashore, the reigning SUNYAC West Division Player of the Year, headlines a stacked group of returnees, joining senior libero Chelsea Moore (First Team All-SUNYAC), junior middle hitter Sam Parente (First Team), and sophomore outside hitter Hannah Renaldo (Second Team and West Division Rookie of the Year).
"I have high expectation. I think we're going to be really good," Parente said. "I think everyone has been doing their summer workouts, and it's going to be a great season."
It's been an exciting summer for Bashore, who was selected for a competitive internship position with Under Armor, and has taken advantage of the athletic apparel company's expansive complex in Baltimore, using it to train for the upcoming season.
"They have a court at the headquarters that we are allowed to use," she said. "I've been using their workout facilities, and there are beach volleyball courts along the harbor, which is fun as well."
Third-year head coach Maria DePeters expects Bashore to once again embrace the leadership role she took on last year.
"We're going to look to (Bashore) and (Moore) to be the team leaders for us again," she said.
Moore led the team with a program-record 811 digs last season and also holds the career digs record for Buffalo State. She and Bashore will form the nucleus for a Buffalo State team that enters the season as one of the teams to beat in the SUNYAC.
"This is the first time in a long time we've been a preseason favorite in the conference," DePeters said. "Probably not since Monica Polka [played]."
Polka holds seven individual records at Buffalo State and last suited up for the Bengals in 2002, which was the last time the Bengals made the SUNYAC playoffs until DePeters took over in 2010.
Despite making the playoffs each of the three seasons under DePeters, the Bengals have not made the NCAA Tournament, something no Buffalo State volleyball team has ever done. Bashore, a Polka-esque talent, may be the one to take the Bengals there this season, with help from an already strong roster.
"My main focus this year is on being a great team leader for the girls," Bashore said. "I have more team goals than I do personal ones. I just want to take my girls as far as they can go."
Leif Reigstad can be reached by email at [email protected] or on Twitter @LeifReigstad.
Leave a Comment