Women's soccer seeks to build on strong SUNYAC finish
Influx of new players have big shoes to fill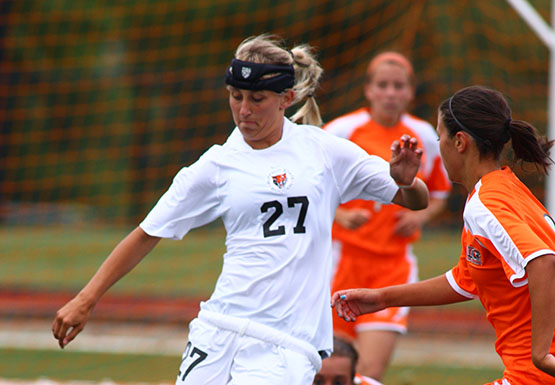 Despite losing two captains to graduation, Buffalo State women's soccer will look to improve upon last year's 5-9-5 record when they hit the field to start this year's campaign.
The Bengals graduated a handful of key players in 2013 including two captains, Katie Hennes and Jess O'Donoghue, and All-SUNYAC Second Team performer, Melissa Mahoney.
Coach Nick DeMarsh admitted it will be tough replacing those players, but expressed optimism about his current squad.
"All of our departures will be difficult but Melissa Mahoney graduating will be hard," DeMarsh said. "She was one of our most versatile players and played almost every minute. We also lost two captains in (Hennes) and (O'Donoghue). We have a solid core returning and some interesting new faces so as always, we are confident and optimistic."
In 2012, the Bengals finished 3-2-4 in SUNYAC play and 2-7-1 in non-conference games. DeMarsh said that he scheduled a more difficult non-league schedule for the Bengals last season in order to prepare them for their opponents in the SUNYAC.
It appeared to prove beneficial, as the team made it to the SUNYAC quarterfinals, but lost, 3-0, to Cortland.
The Bengals are confident they can improve on their overall record and make this upcoming season a successful one.
Senior defender Jordan Dudish, who finished 2012 with 2 goals and 5 points, has high hopes for 2013.
"I think we are going to be a top team this season," she said. "We have a tough returning class, as well as a strong incoming class. We need to score more goals, we know that, and we will make it happen."
Also returning is goalkeeper Linda Banfield. She finished last year with 79 saves and a 1.38 goals against average. Her approach to this season is very positive, hoping to make the conference championship match.
"I think our current team is a really well-knit group of girls and the hours we've put into the weight room and on the field in the off season is really going to push us to be successful," Banfield said. "We also have a lot of promising recruits coming to camp in August so I think our upcoming season is going to be a winning season with the opportunity of making it to the final round in SUNYACs."
DeMarsh also hopes the Bengals can improve their record and on-field performance by being more thorough and organized in teaching his system to the players.
The Bengals play their first game on the road on Friday, Aug. 30, at noon against the Farmingdale State Rams in the opening game at the Farmingdale State Classic in Farmingdale, N.Y. They will then follow with a matchup against Emmanuel, Aug. 31, at the classic.
Their first home game is Saturday, Sept. 14, at 9:30 a.m. against the University of Pittsburgh-Bradford.
Chris Losey can be reached by email at [email protected].
Leave a Comment