Men's and women's track combine for five titles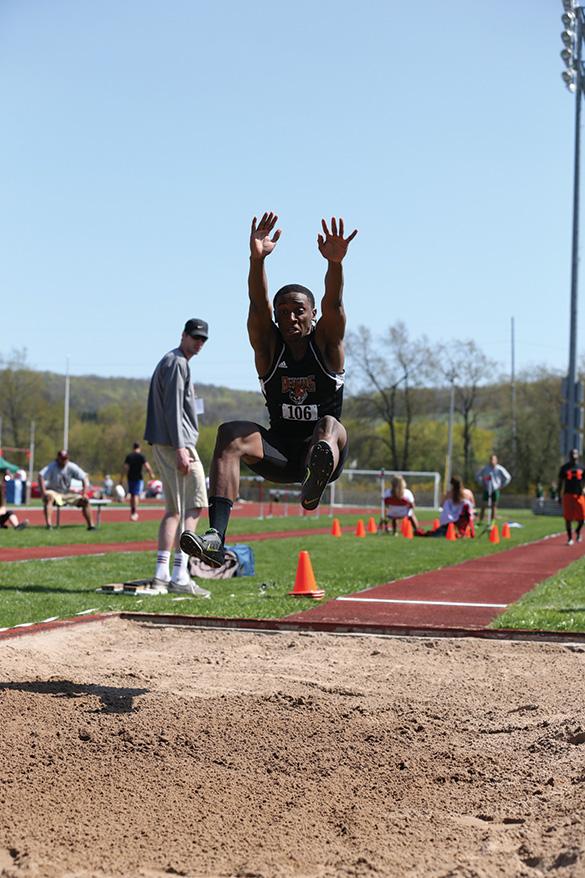 Buffalo State's men's and women's track and field teams both finished fifth out of the eight competing teams in the SUNYAC Championships leading into the NCAA Championships this past weekend.
The women's team had many standouts, such as senior Jazmin Dunham, who won the 100-meter hurdles event with a time of 14.29 seconds, junior Sasa Vann, who won the 400-meter dash with a time of 56.87 seconds, and junior Treasure Glymph, who won the triple jump with the distance of 11.67 meters.
Junior Shuntone Pricher finished second in the 200-meter dash with a time of 25.34 seconds.
"Well, I am going through an injury right now," Pricher said, "so it wasn't the time I had expected, but it was pretty good. I had a personal best, even though I am having some difficulties. I am not going to let these injuries hold me back. I am still going to push through. It is coming to an end, so hopefully I can make some changes before the time is up."
The men's team had strong performances from juniors Austin Becker and Cory Cox, who won the 800-meter run and the long jump, respectively.
Senior Kyle Foster ran the 10k at SUNYACs and clocked a time of 33:40.42.
"I had mixed feelings because obviously I am a senior and I have been doing the 10k for four years," Foster said, "so to not score is kind of tough, but at the same time, I knew the situation I had to be in and still gave it my all. I am not down about it."
Becker set the record for the men's 800-meter run with a time of 1:50.98, beating the previous time of 1:51.69.
"I went in pretty confident," Becker said. "I am treating every meet and every chance I get right now like it's the Nationals. Going out fast and trying to hold on. Definitely a surprise to me to run another 1:50."
During this time of the year, all students are studying up on their classes and preparing for the finals. The track and field teams are still balancing their training for the meets and their classes as the Nationals are quickly approaching.
"With finals coming up, it's kind of rough to balance the two," Becker said. "I have been doing the best I can with it. I mean, I don't miss classes and I get good grades and that, but it definitely does take a toll on you. Constantly running and being tired and sore to take care of your body.
"Then when you're done with that, I got work and class and all those other things that I have to do, but I enjoy it. I feel like that's what kind of pushes me as an athlete and to be a better student."
Pricher believes that the juggling of both lives "is about being disciplined."
"At times, it can be a bit overwhelming," Pricher said, "especially during the time of finals and things like that. And we still have to travel and come back to take tests. It does get a little difficult, but they prepare us for these times. So it's like every opportunity that we get when we travel and stuff, you have to bring your work with you."
Foster saw the benefits of being on the team and how the relationships he developed helped him as a student-athlete.
"Honestly, sometimes it would help, because being a student comes first, so being an athlete would help me cope with stress a little bit," Foster said. "I was able to build a strong support group of friends whenever I was feeling down or stressed out about it. And often times I would help rely on the team and the team would rely on me. Being an athlete takes up three to five hours of your day, so that cuts back on studying or extra-curricular activities. But I feel like I was able to balance it well for four years."
The NCAA championships will be held at St. Lawrence in Canton, Ohio from May 21 to the 23.
"I am just going to run my race; I have been running consistent," Becker said. "I got to take the bull by the horns and go after it in prelims and once I make finals, if I do make finals, and try to win the whole thing."
Email: [email protected]