Softball eliminated from SUNYAC tournament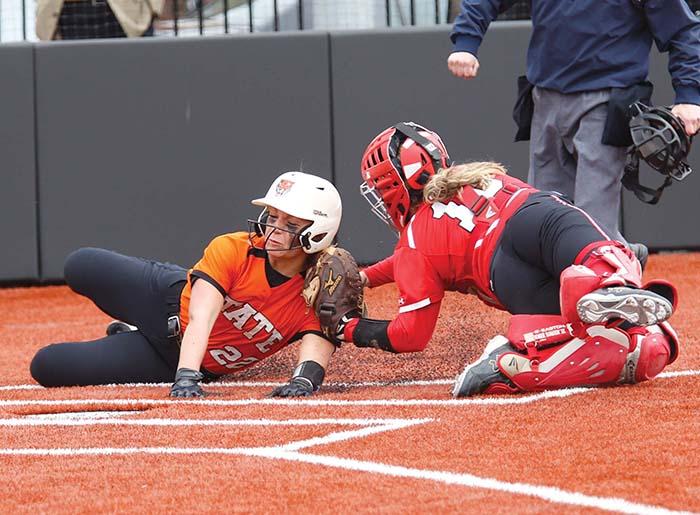 They packed away their bats, took off their gloves and untied their cleats. The Buffalo State softball team saw their season come to an end over the weekend after losing the first two games of the double-elimination SUNYAC tournament.
On Thursday, they lost a hard fought game, 3-2, versus Oneonta. They needed a win on Friday to avoid elimination, but also lost that game, 8-4 versus Cortland, who would eventually go on to win the tournament.
"Our performances were phenomenal; we just came out on the short end," head coach Marie Curran said.
The Bengals weren't hanging their heads though, they were proud of what they accomplished. They finished the season with an 18-17 record (11-7 SUNYAC) and received strong contributions from many different players.
"It was definitely better than I expected," senior catcher Kate Brownell said. "We started out a little rough, we had a young team, but as the season progressed, sometimes we would surprise ourselves."
The Bengals had an up-and-down season as far as wins and losses go, but the one thing that was for certain was their offense. Their offense scored five or more runs in 12 of their 18 SUNYAC games, and was tied for the second in the SUNYAC with a team batting average of .313.
Senior Joanna Bardak was fourth in the SUNYAC with an individual batting average of .416. Junior Stephanie Novo led the SUNYAC with a .672 slugging percentage and eight home runs and was tied for the SUNYAC lead with 37 RBIs.
The Bengals also had a strong pitching staff. Sophomore Alison Novak was third in the SUNYAC with 1.95 earned run average; she allowed the least amount of earned runs and hits of any SUNYAC pitcher. Senior Maddie Coneys led the SUNYAC in opposing batting average, holding hitters to a .219 average, and trailed only Novak in hits allowed.
"She (Novak) just stepped up completely," junior pitcher Jordan Sarat said. "Last year, she had her rough patches like we all do. This year, there wasn't a time when Alison backed down; she never really gave up on herself.
Haley, along with Novo, were both named first team All-SUNYAC and Bardak, along with fellow senior Taylor Swiatek, were named second team All-SUNYAC.
Although looking at the end of the year stats, it seems that the Bengals should have gone further than they did. It was consistency that they struggled with. If there was a game when the pitching was dominant, that would be the game that the offense just didn't do enough to win.
On the flip side, there would be games where the offense was dominant, but the pitching didn't do enough to help the team come out on top.
The longest win streak of the Bengals SUNYAC season was at the start, when they won four straight. But there was a pivotal moment after a loss that Curran really thought turned the season around. They had just lost both games of a doubleheader to Brockport, scoring only one run in the two games, and that's when everything changed.
"The moment we walked on the field after we lost to Brockport," Curran said when asked of her most memorable moment of the year. "Because we had a heart-to-heart as an entire softball family about what we weren't doing right, and how we hadn't taken the program in the right direction, because we hadn't bought in 100 percent to everything."
It was then that Curran and the coaching staff decided that the serious philosophy that was instilled in the team wasn't the right philosophy; it just wasn't who they were. They wanted them to be themselves and they wanted them to enjoy playing.
"Being able to let loose, and be themselves, and be silly, and laugh at each other and have fun, we finally stopped making errors," Curran said. "We finally stopped throwing balls down the middle of the plate, we started hitting balls we hadn't been hitting before, and it was just a whole new idea. I'm real excited to build on that."
Bardak, Coneys, Brownell, Swiatek, Kara Stein and Jenna Clarke will no longer be donning the orange and black. The Bengals will have some big shoes to fill, especially at third base.
"I give a lot of props to Taylor Swiatek," Sarat said. "I've never seen anybody be on as much as she has this entire year, and hands down to me, she's one of the most valuable people on our team and it's going to be tough for us next year not having her around."
That was the sentiment throughout the roster as Swiatek was named team MVP, which was voted on by her fellow players and coaches. Swiatek finished the season with a .355 batting average, she had at least one hit in 29 of the 35 games and even had a 22-game hitting streak at one point.
Curran, who had nothing but praise for Swiatek, pointed out how much Bardak also meant to the team.
"It was really interesting to see how they filled their roles this year," Curran said. "How hard they worked, how coachable they were, and it wasn't about them, it was for team. That was a great experience for our underclassmen, to see that from two seniors who had decent careers but who really stepped up their senior year."
Although Curran singled out Swiatek and Bardak, she also made it known how much each senior really meant to the team.
"We took another step forward with Buffalo State softball this year," Curran said. "I'm excited about the next step in the future, and the groundwork these six seniors have left, I think it's going to be a fun journey for a couple more years.
The Bengals will be looking to replace their starting catcher, third baseman, left fielder and one of their top starting pitchers.
"I think they're a very young team now," Brownell said. "Probably in two years, three years, there is no doubt they'll take the championship away from the other teams. We had a very good freshman class come in this year, there are five or six of them, but for them to be able to play together for the next four years. I think they'll be able to do great things."
Email: [email protected]