LGBTQ diversity series ends with a music performance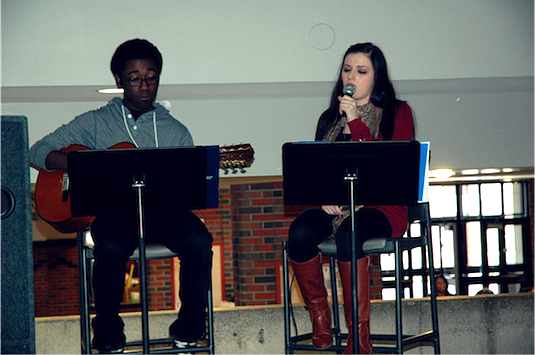 A crowd gathered in the Campbell Student Union on Thursday, April 28 awaiting the final performance in the LGBTQ Pride Series: Equality without Exception. The series featured a wide array of events such as speakers, films, and music. The series arranged by Buffalo State's equity and campus diversity office and was put together with the purpose of bringing to light the diversity of the student population at Buffalo State.
Diversity Program Coordinator Jason Parker stated, "We chose a diverse arrangement of events throughout the week, ranging from public speakers to a pop music performance – showcasing how just like in the diversity of the series there is diversity in people"
Thursday's performance was pop themed, featuring the vocals of student Sameerah Jabrhamdan a senior majoring in music, and Marcus Roper a junior majoring in music education on guitar. Their song selection was pieced together with songs from Top 40 artists such as Ed Sheeran, Sam Smith, and Maroon 5. The songs delivered a message of acceptance, pride, and happiness, perfectly fitting the LGBTQ theme.
"I picked songs people would enjoy. To me, music is about expression and everyone deserves a chance to express themselves," Sameerah said. "My hope is that by the end of the concert people will leave not only happy, but also inspired to express themselves"
Sameerah's passion for music was evident. Her voice was strong and filled with emotion. It was clear that her singing resonated deeply in the minds of the audience and passersby. Some danced, some sung along, and some stopped in their tracks to listen to the music. The atmosphere was loving and inviting.
"I could tell the singer had a passion for music. Her song choices and voice were incredible. This concert showed me just how powerful music is," said freshman journalism major Olivia Smith.
The concert brought an end to the LGBT Diversity Series, but this ending marked a beginning. It sparked people's thoughts and emotions on not only diversity but also themselves. The series had a purpose and was effective in serving that purpose. A week of diversity-themed events encouraged a lifetime of thinking.