Rich Pete aims to make comeback in 2015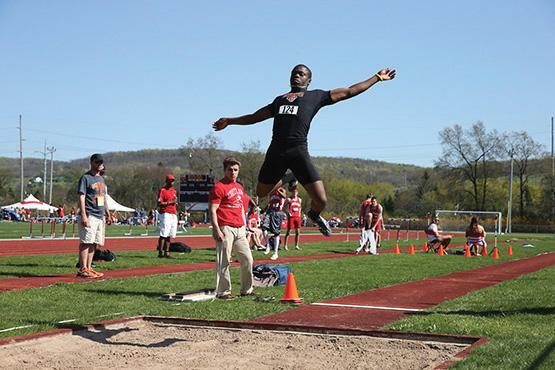 "I just felt a pop and it went numb. Right there, I just knew it was over." Those were Buffalo State's senior running back Rich Pete's initial thoughts after a season-ending blow to his right ankle put him out of the ECAC Bowl Championship Game.
Pete, the All-Empire 8 First Team honoree, averaged career-highs across the board in games played and touchdowns, and eclipsed his first thousand-yard rushing season of his four-year career as a Bengal.
Pete is no stranger to prestigious accolades and has proven to have multi-faceted athletic abilities. A star on the gridiron, he has also posted big performances for Buffalo State's track and field team, earning titles such as SUNYAC Track and Field Athlete of the Year, two All-SUNYAC First Team honors and multiple long and triple jump SUNYAC championships.
Pete reflected on an ironic pre-game conversation with his teammate and fellow running back, Tre Jones.
"The funny thing I always laugh at all the time is, my backup (Tre Jones)," Pete said. "Before the game, I told him 'Yo um, I don't know how much you're gonna play today because the only way I'm coming out of this game is if they have to carry me off of the field.' And unfortunately, they had to carry me off the field."
Pete experienced a torn fibular to his right ankle in the final game of his Buffalo State football career. Pete referenced NFL running back Adrian Peterson as a motivator and idol. Peterson came back from a torn MCL and ACL in his left knee in 2011. After many expected the injury to be career-altering, just ten months later, Peterson was the leading rusher of the 2012 season, posting a historic 2,097 rushing yards on the year, the second-most yards in a season, behind only Eric Dickerson (1984, 2,105 yards).
Pete is just three months into recovery, but his orthopedic surgeon tells him that he is recovering unexpectedly well and that he is where the average person would be around six months post-surgery. Pete gives much credit to Buffalo State's athletic trainer, Liz Aiello, in aiding in the recovery process. Aiello pushes and challenges Pete to do more each and every day.
Pete has hopes of returning to the track next season.
"I will come back! This is not how I will go out; it wasn't meant for me to go out like this," Pete said. "This will not be the last everyone will see of me. If it was me now versus me then, I would beat me then."
Pete used one word to describe his recovery process: "vicious!"