Panel discussion brings awareness to current LGBTQ community concerns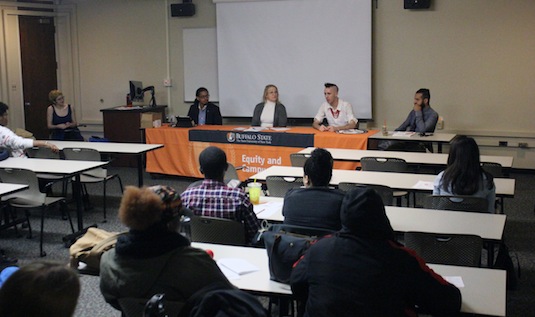 SUNY Buffalo State continued its 'Diversity Dialogue: Let's talk about it' series with a panel discussion on the stigmas surrounding HIV/AIDS, sports and violence for people within in the LGBTQ community.
The discussion was held during Bengal Pause on April 14 in Butler Library 208. Sarah Corwin served as the moderator and helped keep the four panelists on topic as they opened up about the stigmas the LGBTQ community face.
When it comes to the stigma surrounding HIV/AIDS Corwin said, "There's a problem, even if someone is diagnosed and seeking treatment. If they don't have insurance or their insurance doesn't cover a lot of what they may need what options do they have?"
"Yes you can always get tested," said Damian Mordecai, program manager for PRIDE Center of WNY. "If you want to get tested and you have insurance, what is happening now is that they will bill your insurance if you give them permission"
Mordecai added, "a lot of the target populations out there or were to get tested are MSMs (men who have sex with men) of color."
He also said that when an organization offers free testing to anyone that it's not really free and that the organization is paying for it through the help of funding. However, because this method is costly, organizations are now asking people if they have insurance and if not working with them to get them on an affordable plan. This is only if the individual is comfortable with that. Another advancement in healthcare that the panelists brought up is the Affordable Healthcare Act, which gave millions of people access to healthcare, and the development of the prescription drug PrEP.
PrEP stands for pre-exposure prophylaxis and when taken everyday lowers the risk for people who are HIV negative from getting infected.
"So someone who's negative and you know maybe in high-risk behaviors, sex for pay, using drugs, having multiple partners, someone who has a partner that may have HIV, they can take PrEP," Paul Perez, community mobilization specialist at Evergreen Health Services, said.
The panelists than brought the stigma that the LGBTQ athlete faces when it comes to playing any sport or watching sports.
"Lots of sports, like football for example, are considered very macho and there's more and more players that are coming out of the closet," Corwin said to the panelists. She than asked them if they thought sports fans were becoming more and more accepting of LGBTQ players.
Raine Scott, a consultant on gender and diversity and one of the four panelists at the discussion, said when it comes to sport fans there's a different system in play.
"You can go into a gay bar and find them watching sports and enjoying sports," Scott said. "So I don't think it's all fans, I think it's very specific fans and when you get into the older crowd then I think that's where you'll find it's a problem of them not being accepting."
Scott also opened up at the discussion and said he's had a very positive experience with sports. When he was younger he played on the rugby team as a bi-gender and he's had a good experience with the rugby players at Buffalo State.
"I think it's not so much changing the fans, it's changing how we view sexuality in the sports player's minds," Scott said. "A lot of these people will look at a gay male and be like 'oh they're going to hit on me' and you know they're not always going to be the first person they're going to hit on."
Scott said he believes what it comes down to is people having a more educational standpoint and a better understanding of the LGBTQ community. He also added that fans would be able to acknowledge a player more on their skill and merit verses what their sexual orientation is.
The panel discussed the major breakthroughs for transgender people in the Olympics. When someone identifies himself or herself as transgender they have to fulfill three requirements to be able to participate in the Olympics. They have to be on hormone medicine for at least 2 years, had gender reassignment surgery and legal recognition of assigned gender. Scott said that the downside of this is when someone who was once a male takes hormone medicine they have a more difficult time building muscle so in some ways it might not be fair.
Violence among the LGBTQ community that people might not be aware of was another stigma topic that was discussed. The trans community has one of the highest rates of violence and the number of murders for transgender people this year is one of the highest.
"There's a high violence against those who try to be self, that is someone who doesn't want to be openly out about their gender status," said Patricia Jones, one of the panelists and vice president of W.H. Jones and Son.
"Realize that you need to be more conscience and self aware of your surroundings and what's going on around you," Perez said towards the end of the discussion. "That means sitting down and having conversations with people, it means hearing about what's going on and understanding their perspective so that way I can get a better understanding and we can work together to build a better world."