Softball goes 5-6 on Florida trip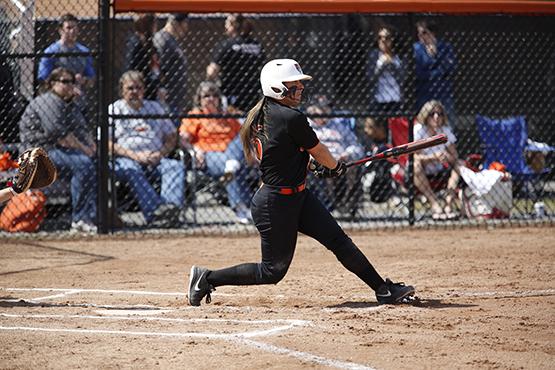 It's officially April, but take a step outside and you would think it's still mid-January. This winter in Buffalo and much of the Northeast has been a pretty harsh one to say the least, and even as we head into April, it's still rearing its ugly head. Just ask the Buffalo State softball team.
The Bengals were supposed to play in the Salisbury Sea Gull Classic March 6 and 7 in Salisbury, Maryland, but because of unplayable field conditions, that tournament was canceled. They were then able to get into a new tournament at Virginia Wesleyan on March 7 and 8, but that tournament was canceled also because of snow and cold temperatures. Thankfully, they had their annual spring trip to Florida planned, and the weather wasn't going to stop them from opening their season there.
They headed to Clermont, Florida and opened their season on March 19. They played 11 games in seven days and finished with a record of 5-6.
"I think it was an important learning experience for a lot of our young players," head coach Marie Curran said. "Really helped us have a better understanding of our starting lineup and who was going to perform well under pressure."
Junior Jean Stahl got out to a hot start at the plate, as she had 12 hits in 25 at-bats for a team-leading .480 batting average. Junior infielder Stephanie Novo also chipped in a team-leading nine runs batted in and five stolen bases. Junior Alexis Haley and senior Maddie Coneys each started five games. Haley threw three complete games and Coneys only allowed five runs in 17 innings and held her opponents to a .175 batting average.
"Jean Stahl, definitely," Curran said when asked who she thought performed well in Florida. "Defensively, we moved her around to a couple places, she hit in the upper .400's, did a really nice job. She's a triple threat, a slapper, a bunter and a power hitter, so it's nice. She's going to keep a lot of people off guard this year.
"Offensively, Kate Brownell had an outstanding week. She's really focused in on being a strong offensive presence for us, so those things are quite exciting to see."
Stahl's efforts earned her SUNYAC Softball Player of the Week.
The Bengals were only able to practice outside a week before they left for Florida. Every other practice was either in the weight room or in the sports arena, so they knew how important this trip to Florida was going to be.
"I don't want to make excuses and say 'Oh we lost games because we haven't been on dirt'," Novo said. "But, I definitely think that it was good to practice and be on dirt, and be on there for a good chunk of games, so that when we come home we feel more prepared. I don't ever want to lose a game, but I know SUNYACs is a lot more important, so I think it was a good learning experience."
The Bengals went from a winter full of negative temperatures and jumped right into 95-degree heat and played doubleheaders on most days, and it took its toll on them. Junior pitcher Jordan Sarat passed out on the mound, and senior Joanna Bardak had to be taken out of a game because of heat exhaustion.
They hoped the warm weather would follow them back home, but that wasn't the case. They were supposed to open up their SUNYAC schedule with two games this weekend, but because of weather and field conditions, they were both canceled.
"Its kind of just day-by-day," Novo said. "I think everyone is just really anxious to know when we will play, and anxious to just be outside."
The day-by-day mentality is something that Curran has been preaching to her team.
"It's one of those scenarios where all the sudden it's going to pop up and 'oh yeah softball has a home game' or 'softball is playing on a turf facility'," Curran said. "So, I'm very lucky our Athletic Director, Jerry Boyes, is incredibly supportive of the softball program and he knows the part of the experience of student athletes is being able to play and getting them to be students at the same time and how do we make all that work as an outdoor sport.
"Pretty much we're telling the girls plan everyday as a game day and we'll tell you if we're playing or not."
When they finally get into their SUNYAC schedule they will have some big shoes to fill, with the departures of Sam Tilkins, Carly Knight, Shelly Maggard and Jordan Dudish. They have seven freshmen on the team this year, and Novo knows she'll need to step up and become a leader.
"For me, because we have our captains, it's more like on the field I try to be a leader, because I know I'm usually out there for every game," Novo said. "So, it's more so to calm people down and just communicate, and reiterate what's going on, and not have people freaking out that they don't know what's going on or don't know what the situation is."
Although it has been a rough start up to this point, they're looking forward to getting the season going.
"I'm excited for the upcoming season; I expect us to do well," Sarat said. "I think we'll be great this year. I think we have a lot of potential and I think we have an extremely athletic team; we have a lot of girls that are really strong."
Novo seconded Sarat's confidence.
"I think we should be higher in the pack than we usually are and definitely make SUNYAC playoffs and make a run for at least a play in the SUNYAC championship," Novo said. "I think we can be better than people expect, hopefully we can fix everything we need to fix and we'll be good."
Email: [email protected]
Twitter: @A_Reyes26