"PostSecret Live!" creator Frank Warren gives safe haven for students' secrets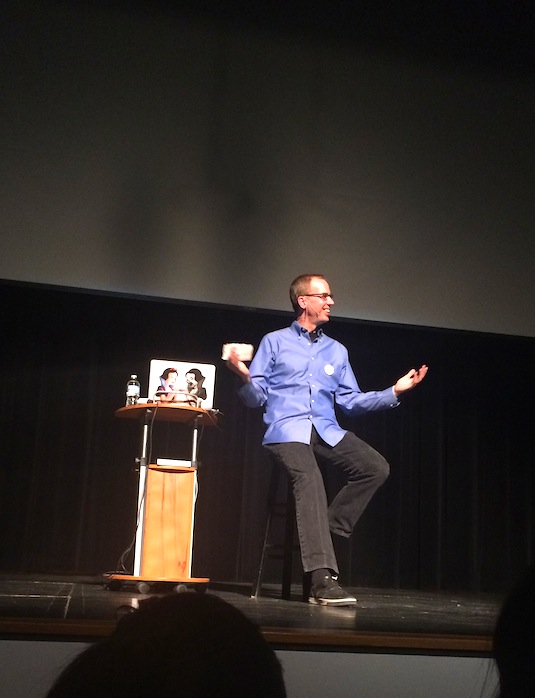 Shedeene Hewitt, Reporter
March 18, 2015
Buffalo State teamed up with PostSecret founder Frank Warren on March 10 for his "PostSecret Live!" seminar. Ten years ago, Warren came up with the idea to have people mail their innermost secrets to his home on postcards. Now, PostSecret has a worldwide following, six books showcasing various postcards and an app.
Warren asked that all photos be taken before his seminar and that all recording devices be turned off. Warren talked about his journey and the evolution of PostSecret. The large screen behind him moved along with his words, which displayed various postcards, their words and the impact they have had on people's lives.
Not all post cards pulled at the heartstrings; some provided laughs and others provoked introspection from the audience.
Interim Director of Student Life Eileen Merberg was one of the key planners of Warren's visit to Buffalo State's campus.
"Jeff Marsha from the Performing Arts Center and I have been wanting to bring Frank to campus for a while. I've been a fan of PostSecret for many years," she said. "I was inspired by how it all started – just a guy inviting people to share their secrets on a postcard, and how hundreds of thousands of folks from all over the world send in cards."
"I knew that this project led Frank to get involved in suicide prevention efforts, because of the anonymous cries for help some of the postcards elicited. I thought the messages Frank talks about would be important for college students to hear."
As the program came to an end, Warren invited a few attendees to share their secrets with the room. Some gave the crowd a laugh, while others shared touching personal experiences.
Monifah Sergeant, a freshman economics major, commented on what she experienced and learned at the end of the night.
"I didn't know secrets could hold so much power over a person. The people who went up and spoke were really brave and the way the crowd responded was even better," she said. "It's good to know that both inside and outside of the campus has individuals that will help each other when the time comes."
A second student, Philmore Hughes, a freshman majoring in political science and minoring in legal studies, shared his perspective as a male.
"There were a lot of emotions going around in the room throughout the entire speech. As a man, it's difficult to show emotions and still feel confident about yourself, but PostSecret is a good was to express yourself without feeling as though you've offended anyone," Hughes said.
At the end, the audience was encouraged to take small postcards provided by Warren and either keep them or send in a secret of their own.
"The secrets are meant to be empowering both to the people who write them and to those who read them. I think they are inspirational, and for those who write them it can be cathartic. Frank's website/blog creates an anonymous community of acceptance," Merberg said. "College students are dealing with a lot of stress – academically, socially and financially – and so anything that can help motivate our students, offer a healthy outlet for being vulnerable, asking for support, has to be good."