Women's lacrosse starts season with a split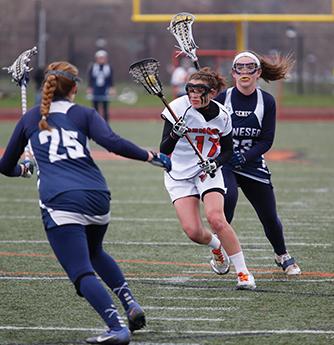 For Buffalo State's women's lacrosse team, a new season brings new players and also a new head coach. Lindsay Abbott replaced last season's interim head coach, Kelsey Schwan, who was hired as the head women's lacrosse coach at Morrisville State.
Abbott, a native of Onondoga, New York, was a four-time All-American midfielder at Cortland, and was an assistant coach there last season.
"She has high expectations for us," senior attacker Kendra Thomas said. "She holds us accountable for everything on and off the field and works us to the best of our ability."
Midfielder Meghan Farrell is a senior who is now playing for her third head coach in her time playing at Buffalo State.
"Coach Abbott brings high expectations to our team and I think that's great," Farrell said. "She pushes us to be a better lacrosse player individually and as a team. I think she puts all her heart into this program and it shows."
What was a long offseason was extended even longer after last Monday's game against Allegheny was postponed due to inclement weather.
"It was frustrating because we already had a long preseason and that just extended it. It gave us more time to work on preparing and work on what we needed," Thomas said.
The season finally began last Friday at Albright. The Bengals came out on top, 18-16, in a well-contested game that went into overtime.
"We needed a game to get us a going. The preseason is very long and it really helped to get that first game in," Abbott said.
The Bengals started slowly, as the Lions jumped to an early 3-0 lead, but then responded with three goals of their own.
Albright jumped out to an 11-6 lead at the half, but Buffalo State pulled back once again.
Albright led 15-10 with 13 minutes remaining, but that's where the Bengals changed the course of the game.
"The talent is there and the chemistry off the field is there, but we don't channel all that into a game. It's fixable and I think it will come together by this weekend," Farrell said.
The team stormed back with a 5-0 run to tie the game and send it into overtime. Two goals in the overtime period from freshman attack Alanna Herne and stout play from sophomore goalkeeper Elyse Stark kick-started a comeback win for the Bengals.
"We have great chemistry on and off the field. Coach (Abbott) challenged us at halftime and asked us what we want to be. We're fighters, so we dug deep," Thomas said.
The next day, a 13-7 loss was handed to the Bengals by the Scranton Royals. A 9-1 start for Scranton dug a hole too big for the Bengals to climb out of despite a second half rally.
When asked about the slow starts, Abbott was adamant about improving.
"We absolutely, 100 percent need to improve on that," Abbott said. "It comes down to trust amongst the coaches, the players and everyone on the team as a whole. When there is trust we will be successful and that is the key."
Abbott is encouraged by a solid start to the season and feels her team has what it takes to compete this year.
"I want the team to be disciplined and have a competitive drive. The team has a great chemistry together and I know we can push ourselves to the next level," she said.
Next up for the Bengals is their home opener against SUNYAC rival St. John Fisher this Saturday at 1 p.m. at Coyer Field.