Students share experience from three-week Rwanda visit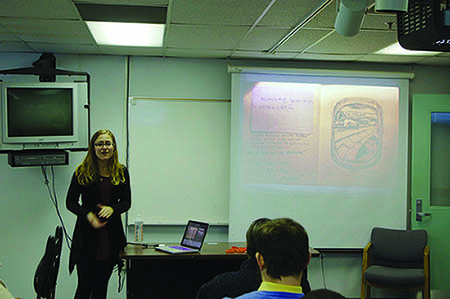 When the country of Rwanda comes to mind, many Americans automatically begin to think of the 1994 genocide that occurred there, but for some SUNY Buffalo State students, a completely different thought comes to mind.
Students who traveled to Rwanda through The Anne Frank Project in January shared their experiences during presentations at Buffalo State last week.
The presentations, two of which were held in Donald Savage Theater and Communication Building 209 and one in E.H. Butler Library 210, featured student speakers sharing their stories and lessons they learned during their trip.
The group of students is the third to take the trip to Rwanda, the first group went in 2012. They were given the opportunity to present what they found to be most important from the three weeks they spent there.
Drew Kahn, a theater professor at Buffalo State, is also the director of The Anne Frank Project. Before The Anne Frank Project, Kahn was involved with "The Diary of Anne Frank."
"In 2006, we did a production of 'The Diary of Anne Frank' and we had two Anne Franks," Kahn said. "We had a Jewish Anne Frank and a Rwandan Anne Frank, trying to reach our very diverse student audience. We were never intending for it to become a project, we were just saying 'Let's create a play that's immediate and that tends to our student audience.' Well, we hit a vein."
The production gained so much attention that Kahn presented it at a couple of conferences, including one in Amsterdam. Because of the production's popularity and through some discussion, Kahn received a grant to travel to Rwanda to do what he calls "friendraising," or establishing relationships in order to see if he wanted to take students to Rwanda.
After spending three weeks in Rwanda, Kahn said "it was more remarkable than I even imagined." And so, he began to take students to Rwanda through The Anne Frank Project.
Molly Bader, a junior theater major with a minor in painting, went to Rwanda over J-Term this year, although she considered going as a freshman.
"When I was a freshman, I had a class with Drew, and this was the year after their first trip to Rwanda, I believe," Bader said. "They had taken students the year before, and so it was brand new. And seeing the students' presentations, hearing all about how life changing it had been, I was really determined to go."
In her presentation that was titled "Detachment Inhibits Healing," Bader talked about some of her experiences going through genocide memorials in Rwanda.
"I think that forgiveness of yourself and others is very important to process through suffering," Bader said. "I think that detachment from suffering is something that hurts everybody, and that people need to process their experiences in order to find happiness."
Bader said that if she has the opportunity to go back to Rwanda, she would in a heartbeat.