Hollywood comes to Buffalo State with a "Night at the Oscars"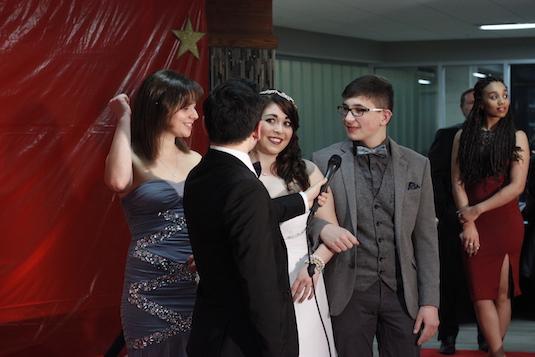 Christian Casillas / BSCTV
The SUNY Buffalo State community hoorayed for Hollywood Sunday night, Feb. 22 with the seventh annual Television and Film Arts (TFA) Night at the Oscars.
Complete with red carpet interviews, semi-formal attire, food, drink, and a live band, the cold did not scare away students and faculty from coming out to celebrate entertainment's biggest night. Approximately 200 people turned out, and it was the first time the event was held in the Social Hall inside Campbell Student Union.
TFA students enrolled in director Jeff Hirschberg's film and criticism course [TFA 301] were responsible for the planning of the party. Students in Hirschberg's class got a taste of large-scale event planning.
"The skills they are getting are really producing skills and similar to what you would need to produce a short film," Hirschberg said.
Tending to a long list of details, the five co-chairs oversaw tasks ranging from decorations to booking the live band. This has been the students' major project since the start of the semester giving them a little less than a month to put everything together. In fact, they chose their theme in less than 24 hours.
"(We) decided on the theme of 'red, white, and beautiful.' Once we figured out the theme we decided to keep it simple and elegant and express how beautiful you are as a person," said Madeline Allard, freshman TFA major, who co-chaired the event with Christina Ward.
Rose petals, touches of red and white balloons and streamers kept the decor budget friendly. Simplicity was the objective, making the red carpet the biggest statement.
"The red carpet was our main focus because we wanted our guests to shine and be our decorations, making them feel beautiful and like celebrities for the night." Christina Ward, co-chair and junior TFA and secondary English education major, said.
During the event, attendees got a chance to vote for the TFA Pioneer awards after watching the students' short films. The awards were given in categories mirroring the Oscars including best actor/actress, screenplay, picture and director. Ward won a Pioneer award for best screenplay that night, for the film "Sunshine." Winners were announced during the party and got trophies to honor their talents.
When it came to the live band, The Stock Car Boys were a no brainer choice for the co-chairs. One of their songs was featured in Ward's film and she has been connected with them since high school. The band played during commercial breaks keeping the party atmosphere alive and showcasing local talent.
As one of the only co-chairs with a car, Ward had the complete experience of how hectic event planning can be. "I think the weekend of the event I was lucky to get four hours of sleep," she said. "There was so much to do and prepare but it was a blast."