SPC launches new campus projects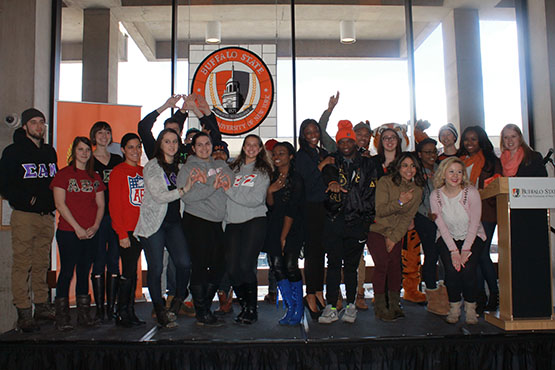 On February 5, SUNY Buffalo State's Student Philanthropy Council hosted a ceremony for the Inter-Greek Association in honor of the new windows in the Campbell Student Union.
The Inter-Greek Association had worked together throughout 2013 to raise $4,000 to fund the windows with the Buffalo State crest pictured. The idea for the windows originated from Kirsten Catalano, assistant director of Student Life. The windows that would hold the stained glass were then installed on April 16, 2014.
A plaque, honoring the associations that helped fundraise, was revealed at the ceremony.
"The windows are located to each side of the entrance as you are leaving or entering the Student Union from the library side," Jessica Newcombe, president of the Student Philanthropy Council and coordinator of the ceremony, said.
The Student Philanthropy Council is one of Buffalo State's newest student organizations on campus, forming in this past year. The organization focuses on giving back to the campus.
"We are working to carry on the mission of the group for the 2015 Student Giving Campaign and pair our mission to create a culture of giving at Buffalo State," said Newcombe.
Newcombe said she believed in student involvement on campus.
"Student Philanthropy Council is trying to create a culture of giving at Buffalo State," said Newcombe. "We want to show students that by giving, they can make a difference on our campus. In general, giving does not have to be of monetary value. It is important to give your time and resources to make an impact on the lives of others."
The Student Philanthropy Council and Inter-Greek Association are not collaborating on any projects together at the moment.
"We hope to partner again in the future," Newcombe said.
The Student Philanthropy Council is currently planning future projects.
"Student Philanthropy Council is working to set up our campaign to raise money for a new campus project," Newcombe said. "Our goal is to raise $5,000. The campaign will run from March 9 to 20.We will be collecting money through a variety of ways during our two week campaign."
Students can vote online for what project they want to see funded. Current possibilities include a new bus shelter on Grant Street, a new blue light phone station, and more bike racks, benches and recycling bins. Another option divides the funds for new resources for different departments such as Arts and Humanities, Graduate School, School of Education, School of the Professions and School of Natural and Social Science.
"The winning option will be the focus for our group," Newcombe said.
Students can vote for the project at tinyurl.com/lolzgku.
Email: [email protected]