Women's basketball falls in Baldwin-Wallace Invitational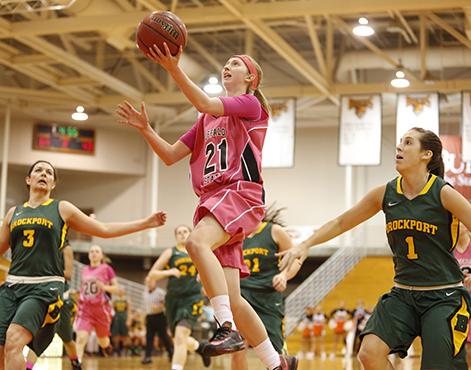 Fundamentals can make or break a game of basketball, the women's basketball team learned that lesson the hard way when they competed over the weekend at the Baldwin-Wallace invitational in Ohio
The Bengals came into the tournament fresh off a pair of victories in last weekend's Betty Abgott Invitational held at Buffalo State but could not keep in the win column, dropping a pair of games this weekend.
"We have a lot to work on, basically all fundamentals," junior forward Jordan Yastremski said. "We didn't execute as best we could have and our foul shooting was disappointing to say the least, all in all, we didn't play like we know how to."
In the first day of tournament play the Bengals went up against Mt. St. Joseph in a game postponed a day due to weather restrictions around Buffalo. The Bengals jumped out to a small 5-0 lead but could not hold it, a theme that would dominate the day. The lead would change hands multiple times throughout the first half but Buffalo State took to the locker room with a one point lead.
The back and forth play would continue throughout the second half before Mt. St Joseph took the lead with 3:22 to play, a lead they would hold on to, dealing the Bengals their first loss of the season, 68-77.
Junior guard Brittnee Perry led the way for the Bengals scoring 14 points and pulling down 10 rebounds, marking her first double-double of her Bengal career. Yastremski also registered a double-double with a 13-point, 14-rebound performance. Seniors Hillary Kollar and Olivia Luciani registered 10 and 12 points, respectively. The Bengals shot a dismal, 31% from the free-throw line (9-29).
"The effort was not there in the games that were played this weekend," head coach Sue Roarke said. "The weather had a factor in it I believe, we didn't have a full week of practice to prepare but there was a lack of focus that we have to fix before the games this weekend."
Day two for the Bengals saw them matching up against host school Baldwin-Wallace, a game that they could never really get under control, losing 83-66. After jumping out to an early lead, 16-10, Baldwin- Wallace would end up seizing the lead back and never giving it up, going up by as many as 25 in certain points of the second half. The Bengals continued their poor performance from the line, shooting just under 49% while giving up 83 points on defense.
"We have it there offensively in my opinion," senior forward Ashley Wallace said. "We are putting up numbers that should beat teams, but our communication and getting back on defense are still not there. Letting teams put up that many points on us won't translate to wins."
The important part of the season for the Bengals is about to begin. They hit the road this coming weekend, Nov. 28-29, to compete in their first SUNYAC competition of the year in Cortland and Oswego. Cortland sits at 3-0 and Oswego is 1-1 so far. The Bengals look to start their 2014 SUNYAC campaign with a couple of wins.
"Cortland is an athletic group of girls each and every year that will always be in it come seasons end," Roarke said. "Oswego is far more talented than they were last year as well, so we have to play good defense if we want a chance to win."