Men's rugby sees season come to an end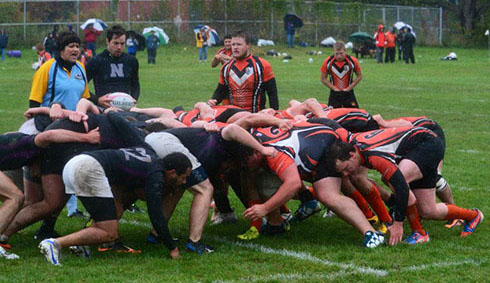 Senior Kevin Rosier and senior captain Christian Feickert line up on defense on a snow-filled Oswego field. The Lakers are pushing closer to the try-zone. A bad pass comes, and the Bengals look to capitalize. But an Oswego player catches the ball, sneaking past the Buffalo State defense.
In a tightly contested match, it's plays like that, that make all the difference.
The Buffalo State men's club rugby team faced Oswego on Saturday in the first round of the DII Empire Upstate Collegiate Rugby Conference playoffs. The team lost, 19-12, in a hard fought game, ending the season with an 8-2 record.
While the men's team had better practices the week before the game, none of those practices involved snow. Coach Rob Jenkinson said weather conditions were bitter with about four inches of snow on the ground.
"Oswego did a good job of keeping possession of the ball," Jenkinson said. "When we got it, we had trouble holding onto it, and it was pretty slippery, so we just couldn't make anything happen, they were just a little bit better prepared for the snow than we were."
Rosier, who played his last fall game against Oswego, said the snow was detrimental to his team's play.
"I think the snow really hurt our game plan," Rosier said. "We usually like to play sideline to sideline with a lot of fast movement with our backs, and the snow kind of hindered that."
Buffalo State had a difficult time maintaining possession of the ball in the first half. By the time they were able to get going on offense, it was too late.
"Offensively, we really didn't get going until the second half, but [the] defense played well the whole game," Feickert said. "Our defense was on point, but our ball handling, especially in the first half, was just terrible. We couldn't get the ball in our hands and we were dropping every pass. Even the good passes were dropped."
Jenkinson said that the Oswego game was one of the better defensive games his team played this season.
"Oftentimes, we were able to get them behind the game line and kind of pin them down for a little bit," Jenkinson said. "But Oswego did a great job of retaining the possession, and eventually they found an opening and were able to capitalize on it."
Rosier said that defending Oswego was hard to do. He said the Lakers were really good at supporting their teammates and rucking. The Bengals weren't able to get the counter-ruck, which was a big part of their game until the second half.
"I expected them to be tough. They're always a really good team," Feickert said. "I was hoping we could edge it out, but at the end of the game, it just didn't fall our way."
Jenkinson said his team had a couple of long runs that he thought would be able to tie the game, but the game ended.
"When we were able to make some breaks, we were able to get through them and make them pay, but we couldn't do it enough," Jenkinson said. "It wasn't to be. I'm not disappointed, but I'm looking forward to the spring."
Feickert said that there will be a lot of returning starters for the coming spring season. He expects the spring to be equally, if not more, successful than the fall.
"I'm glad I got to lead this group of guys on a really successful season," Feickert said. "Even if it didn't end up the way I would've wanted it to."
Rosier, who plans on returning for the spring season, said the men's team is looking to travel to tournaments in Savannah, Georgia and Oswego in the future. He hopes to face Oswego again at a later time.
"The fall season was really great," Rosier said. "It's hard to go to the playoffs back-to-back years, and I feel like we accomplished a lot even though we didn't get our end result we wanted."
E-mail: [email protected]