Post play leads women's basketball to tournament win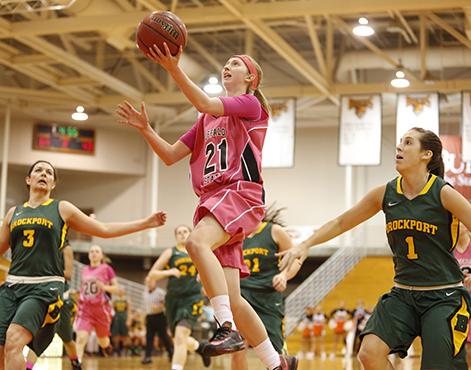 Filling the void of a strong senior class lost to graduation and starting off on the right foot was the main focus for the Buffalo State women's basketball team as they prepared for their season opening tournament this past weekend.
This years Bengals squad is completely different than the team that went 19-7 last year. This team features seven new faces to a team that lost record setting seniors Bianca Smiley, Staci McElroy and Kayla Crawford.
"We have a lot of new faces this year," head coach Sue Roarke said. "We graduated a really talented senior class so right now it's about getting who we have adjusted to our style of play."
The Bengals came out in the opening round of the Abgott Invitational tournament held at Buffalo State College this past weekend swinging, knocking off opponent Thiel 90-76.
The Bengals started off hot, jumping to a 7-0 lead and never looking back. Leading at certain points of the game by 26, the Bengals delivered the season opening performance they desperately hoped for coming off the loss of all of their senior talent.
The frontcourt combination of Ashley Wallace and Jordan Yastremski proved to be too much for Thiel to handle. Wallace lead the Bengals in scoring, posting 21 points to go along with eight rebounds while Yastremski posted the first double-double of her career with 11 points and 14 rebounds.
Day two of the tournament saw the Bengals face an opponent in Ohio Wesleyan, who posted a record of 18-9 last season. A test that many expected a rebuilding Bengals squad would not be able to rise to.
The Bengals answered the bell turning in a quality performance and squeaking out a slim
66-63 victory over Ohio Wesleyan. This was a back and forth slugfest the entire way, with a score of 31-31 at halftime it was anyone's game. The beginning of the second half proved to be the turning point for the Bengals, who hit on three consecutive three-point field goals to power to a 48-36 lead.
Ohio Wesleyan managed to catch up but a late field goal by freshman Keyonte Edwards pushed the Bengals ahead 63-62, and they never lost the lead.
Junior transfer Brittnee Perry scored a team-high 15 points in the winning effort, Edwards scored 13 points and grabbed nine boards in her second collegiate game to lead the Bengals.
"I was proud of our team and how we never lost our tempo or sight of our goal of winning the opening tournament," Yastremski said. "We had two scrimmages against upper division teams prior to this weekend, so there was no surprise in the amount of talent and effort displayed in the tournament."
The Bengals will take their 2-0 record to the road when they travel to Ohio to participate in the Baldwin-Wallace tournament Fri. Nov. 21.
"My main goal for the girls is to get better each and every game," Roarke said. "We just have to do the little things correctly and that will translate on the court."