Men's hockey looks to continue success with new group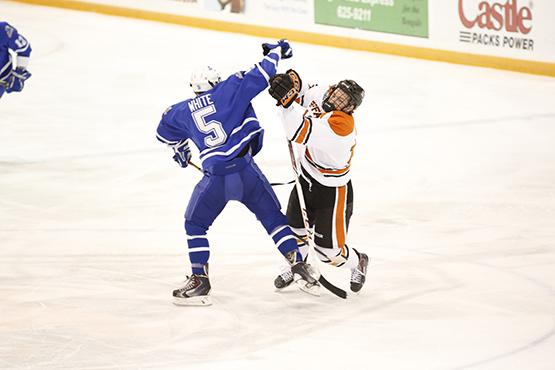 ​Buffalo State men's hockey continued their streak to the SUNYAC playoffs, making it four years in a row. Yet in the last three years, Buffalo State had lost every time in the semi-finals. This year, the Bengals will need to replace their best goalie in school history their top two scorers from last year.
"I am feeling pretty confident," junior forward Brett Hope said. "Coach replaced the players with some really good scorers and we have a good overall team defense."
The team announced Hope as the team captain with sophomore defensivemen Nick Schiro and Charles Lapierre as the assistant captains.
"It's an honor," Hope said on being named captain. "Knowing that the team and coaches see me leading the team is great. I have to be a leader and being named captain is the first step. My goal is to be [an] every situation player for the team."
Buffalo State goaltender Kevin Carr graduated after posting a 2.57 goals against average in his senior year. Carr  started every year and is Buffalo State's  all-time leader in wins (45), save percentage (.921) and shutouts (9). The position of goaltender now lies on the shoulders of sophomore Mike DeLaVergne.
"I feel pretty confident and strong," DeLaVergne said. "I thrive in these situations. I am the guy who can do it. I am very prepared. Carr was the best goalie in Division III last year and he took me under his wing. We got a lot of strong players coming in and we got our core defenders back."
On the offensive end, the Bengals will have to replace their top two scorers from a year ago. Reigning leading scorer  Dan Turgeon (12 goals, 15 assists) left the team to pursue a professional career in hockey and forward Mike Zannella (7 goals, 15 assists) graduated and moved to a professional minor league team. The departures leave sophomore forwards Taylor Pryce (6 goals, 15 assists) and Nick Berst (8 goals, 4 assists) in line to provide much needed scoring.
Giving the Bengals a much need boost is junior Nick Melligan. The junior took a year off of hockey after leading Buffalo State with 13 goals and 30 assists in 2012-13.
Bengals' hope that the new coaching staff can impact change on the team as Steve Murphy joins the coaching staff. Most recently Murphy was the assistant coach and strength and conditioning coach for the Kenai River Brown Bears of the North American Hockey League.
The Bengals' kick off their season with back-to-back SUNYAC games this weekend. Buffalo State will host Oswego tonight with puck drop set for 7 p.m. On Saturday, the Bengals will host Cortland at 7 p.m. Both games will be played at the Ice Arena.
"I think we will come out on top [Friday night]," DeLeVergne said. "They are the strongest team in the conference and this game will mean a lot…We will be ready and so will they. I want the place to be packed. Against Penn State last year for our home opener, the crowd was loud and probably the best atmosphere I have ever played in."
​Email: [email protected]