Rugby shines in second half, beats Fredonia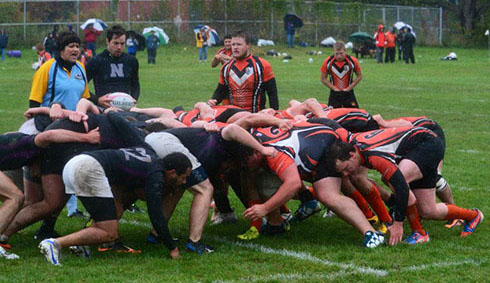 The Buffalo State men's club rugby team beat Fredonia, 41-19, on Saturday to improve to 5-1 this season.
The first half of the game kept Buffalo State's defense on its toes. Some missed tackles and changes of possession by the Bengals led to Fredonia tries at the 22nd and 35th minute marks of the first half.
Junior winger and president of the team, August Edwards, said that his team was trying to find its defense in the first half.
"We were trying to find out what we needed to do to combat their defense and stop them on offense, but towards the second half, we just started coming together more," Edwards said. "We stopped them from scoring, we held it up in the end zone, and we just started playing a harder, tougher game."
After the half, Buffalo State came out with intensity and solidarity. Edwards rushed down the field to score a try within the first few minutes of the second half, making the score 29-14, Buffalo State.
"We fumbled it back on the kickoff, somebody kicked it, I caught the ball, kicked it over the guy's head, and caught it and scored," Edwards said.
Second-year player Ray Ignasiak and junior flanker Alex Vranic were put into the game by assistant coach Mike Forpahl shortly after Edwards's try. It was Ignasiak's first time playing in an A-side game this fall season.
"It definitely felt really good to get out there," Ignasiak said. "They're [Fredonia] really big, powerful guys, they always come to hit, they always come to play, but in the end, we keep with them and then we keep hitting them harder than they can hit us."
Although he didn't score, Vranic made it possible for his teammate, senior winger Ethan Walsh, to score his second try of the game at 58th minute, making the score 34-14, Buffalo State.
"I thought I was going to score, but then I realized I wasn't there, so I just looked up and Ethan was standing right above me so I just flicked it a little bit," Vranic said. "Luckily, he was able to catch it, and he's a strong dude, so he just powered his way, he got low and scored. It was a weird game. They kept hitting us, but we hit back. We were a little tired, but we fought through and we got the win."
Rob Vinal also scored two tries, coming in the 10th and 14th minute of the game. Collin DeGuehery scored Buffalo State's last try in the 70th minute, along with his third conversion kick of the game to finish.
The men's team faces Geneseo at home this Sunday at 1 p.m. Edwards believes cohesion and hard work will be the key to success in the future.
"It's all going to be how we put together our team and if we dictate the game, so it can go either way always," Edwards said.
The game will be held on the field next to R-14 parking lot off of Rockwell Rd.
E-mail: [email protected]