College prepares for grad school fair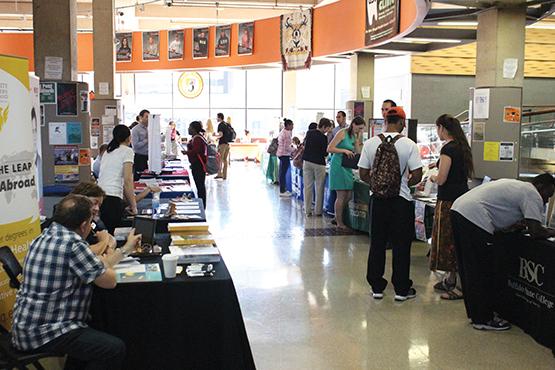 Over 60 schools from across the state will gather in the Campbell Student Union Social Hall on SUNY Buffalo State's campus for its annual graduate school fair. The fair will take place from 11 a.m. to 1:30 p.m. Thursday, Oct. 16.
The graduate school fair is for students to get connected with the vast options available for obtaining a master's degree, as well as to answer any questions students may have.
Jessie Lombardo, assistant director of the Career Development Center, stressed the importance of face-to-face connections.
"Websites can be confusing for students to find all the information they may need," she said. "This way students can personally ask any questions they may have without having to search for it on the Internet."
Lombardo said the major goals of the graduate school fair include exposing students to a variety of programs, increasing knowledge of the graduate school admissions process and to let students know what they need in order to apply.
Although it's normally seniors and juniors who may be looking into graduate school programs, all students are invited to come.
"I encourage freshman to come," Lombardo said. "Anyone that may have questions about any program should be there."
Darrell Porter, 45, graduate career counselor at the Career Development Center and current student in Buffalo State's graduate school program in higher education, stressed the importance of preparedness.
"The biggest thing," Porter said, "is that students should not 'go in blind' to graduate school."
Porter graduated from Buffalo State's undergraduate program in May 2014, majoring in public communications.
"Research what you get into, and be prepared," he said.
Buffalo State's graduate school offers over 60 graduate programs for students to choose from, as well as 40 master's programs.
Kimberly Jackson, assistant dean for strategic and enrollment planning of the graduate schools, strongly encouraged students to get informed on the vast number of programs Buffalo State has to offer.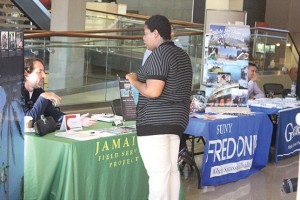 "The graduate school serves as the hub for all graduate activities here on campus," Jackson said. "We encourage and work very closely with the Career Development (Center) to provide support for our students as well as prospective students about graduate school."
Buffalo State's graduate program was originally known for education. Jackson said that over the last five years, Buffalo State has implemented new distinctive and diverse programs, helping draw a bigger crowd of potential students.
"Our programs are not only geared toward the traditional graduate student, but are also geared towards career changers," she said.
Jackson said she feels that it is extremely important to begin developing connections at an undergraduate level, and encouraged all students to attend drop-in information sessions, or simply come to the office with questions.
"Our goal is providing support so that our students can be successful in their careers," she said.
Email: [email protected]