Bengals falter against Fredonia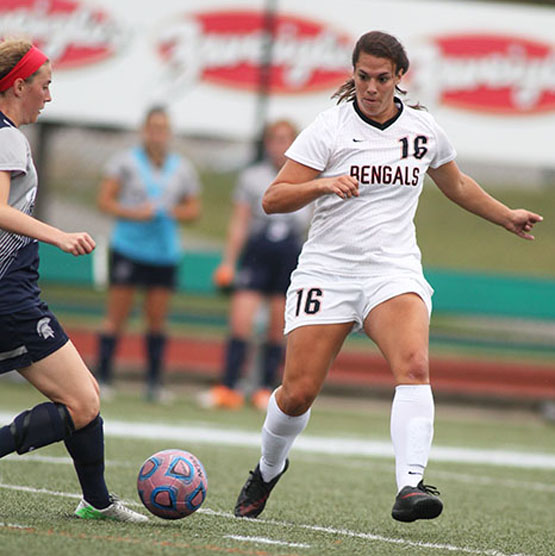 The Buffalo State Bengals women's soccer team took on the Fredonia State Blue Devils Saturday at Coyer Field in what was labeled "The Battle by the Lake." It turned into what seemed to be the battle in the lake, with heavy downpours and whipping winds throughout the game, which turned into an offensive struggle for both teams.
Junior forward Meghan Allen said the weather played a huge factor in their offensive strategy.
"It was raining sideways," Allen said. "The balls were going every which way and it was a mess."
Although the Blue Devils outshot the Bengals by a 7-2 margin in the first half, the score remained tied at zero because of strong Bengal defense and a few timely saves by freshman goalkeeper Nicole Torres. It wasn't until the 75th minute when Fredonia sophomore midfielder Kaleigh Creeden put a shot past Torres just after a corner kick.
Fredonia attempted 12 corner kicks, including nine in the second half, to Buffalo State's one, something head coach Nick DeMarsh was not pleased with.
"We conceded 12 corner kicks," DeMarsh said. "You can't win a game conceding 12 corner kicks, and they burned us, they scored on one, you ought to score one out of 12."
The Bengals offense finished the game with only eight shots to Fredonia's 14, but they had plenty of chances with those eight shots. In the 41st minute, freshman midfielder Breanna Knight let a shot go from just above the box that zipped past the goalie but hit the crossbar. In the 87th minute freshman midfielder Gina Taggart seemed to be one-on-one with the goalie, but hung onto the ball too long until Fredonia's junior goalkeeper Lindsey Forness took her out.
Taggart and Forness remained tangled up on the field and the ball sat in the box. Freshman midfielder Tianna Hatch raced over to it and had a wide open net but her shot went high and over the net. High and wide shots seemed to be the theme for the Bengal offense all game.
"I thought we had plenty of opportunities to score," DeMarsh said. "Including a one-on-one at the end where we didn't even get a shot off and then the goal is gaping and we come in and we hit it over. You're not going to win games unless you can finish your opportunities."
Although DeMarsh felt his team's performance could have been a lot better, he thought this was a key learning experience for them.
"We are so young and you can't change being young," DeMarsh said. "This is a good experience for the girls, it's another close conference game where we just didn't have that little extra concentration to get the result we wanted."
The loss to Fredonia was the Bengals' second game in a three-day stretch, as they took on the Alfred State University Pioneers on Thursday and came away with an 8-0 win.
The Bengals offense outshot the Pioneers 20-8 and nine different players tallied at least one point with Knight leading the way, scoring a hat trick.
"It was just do what I have to do," Knight said. "Try to score every chance that I got and that's what I did."
It was the Bengals highest offensive output yet this season, as they scored more than one goal in just two of their first nine games.
"We've been struggling with scoring lately so it was definitely a confidence booster," junior captain Gabrianna Boldinski said. "Although they weren't the best competition, I think it helped a lot of us that were struggling with trying to finish."
After the win against Alfred State and the loss to Fredonia, the Bengals are 4-5-2 and will play Friday against Cortland and Saturday against Oswego, both at Coyer Field.
Email: [email protected]