Women's volleyball sweeps Fredonia Classic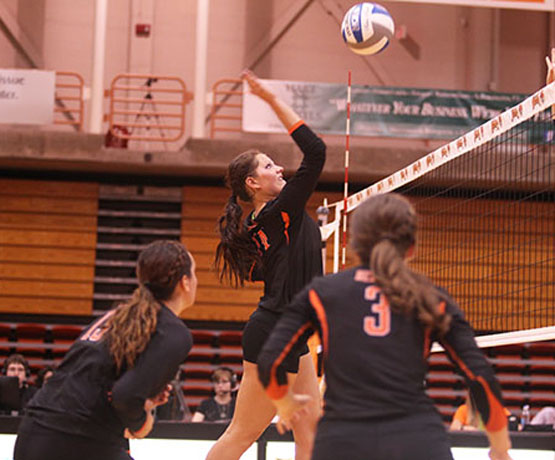 Take care of business when you have to. In sports, it is important to win the games you are favored to win.
That was the mantra that the Buffalo State women's Volleyball team took to this past weekend's tournament at the Fredonia Classic.
After a disappointing finish in last weekend's first round of SUNYAC competition, the Bengals came into this weekend tied for the best record at the tournament with big expectations for the things that they could accomplish.
"I think the girls definitely learned something from two weekends ago," said head coach Maria DePeters. "They prepared all week with a sense of urgency and they came out and played like it."
The Bengals started the weekend off in dramatic fashion, winning their tightest match of the tournament against Frostburg in five sets. They picked up the win in the first set, 27-25, only to drop the next two sets, 25-19 and 25-22 respectively, before taking the fourth set, 25-16 and securing the win with a 15-13 fifth-set performance. Sam Parente led the Bengals offensive attack with 19 kills, while Jessica Crooks pounded in 13 kills and five blocks.
Buffalo State improved to an impressive 15-3 in matches decided by five sets over the course of the last three seasons.
The Bengals then went on throughout the rest of the tournament without losing a set, defeating RIT, Pitt-Bradford and Hilbert College in three to secure the tournament's top overall record.
It was a tournament the Bengals were expected to win given their record, but records don't matter when it comes to tournament play.
"You go in and you respect the opponent that you are playing regardless of your record," senior Sam Parente said. "When you respect your opponent you usually play well and get the job done."
Senior Jessica Crooks ended up taking home the honor of tournament MVP amassing 43 kills, 15 blocks and one ace throughout all four games of the tournament. Rachelle Kelchlin also capped off awards for the Bengals, securing her spot on the all-tournament roster.
"I think this weekend had a lot less pressure compared to a SUNYAC weekend, we were there to have fun and play our game," Crooks said. "I personally have been working really hard on and off the court and it paid off this weekend."
The focus for the Bengals now shifts to this coming weekend, where they begin their second round of SUNYAC pool play on Oct. 11 in Brockport. They have three matches the entire weekend against SUNYAC opponents New Paltz, Brockport and Plattsburgh.
"It all starts in practice," Parente said, "This past week we really stepped it up in terms of practice intensity and in order to be prepared for the SUNYAC competition we have coming, we have to keep it up."
The Bengals are stuck fighting for a playoff position in a competitive SUNYAC league which has them sitting in the middle of the pack, despite only two in-league losses. Buffalo State currently sits at sixth out of ten teams.
"Right now we are playing for our playoff lives, there is no messing around," DePeters said. "It is really important that we go out there and leave it all on the court, every game could be our last."