Rugby bounces back, beats NU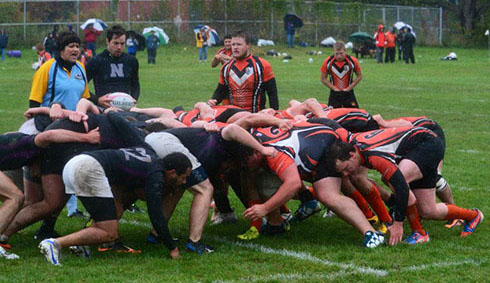 After losing by two points in the second round of the playoffs last season to Niagara, the Buffalo State men's club rugby team was looking to redeem themselves, and that's exactly what they did.
The Bengals defeated Niagara, 10-5, this weekend to raise their record to 4-1 on the season.
"Niagara's always a really tough team. They are always right with us," senior captain Christian Feickert said. "This was a really hard-fought game. We were really pushed to the limits, but we kept it going, we kept the wheels turning, and eventually, we ended up with a higher score at the end."
In what appeared to be an even matchup, the Bengals fought hard to come out with a win at the end. Physical play up front from Buffalo State forwards helped the team get ahead in the game.
"That's the style of game we want to play in these conditions," head coach Rob Jenkinson said. "It's wet, it's cold, it's windy. Passing the ball long distances, it's too high of a risk situation to try to pass far. So it's better to slow the game down and kind of grind it out a little bit at a time instead of making a risky play and having it come back against you."
Jenkinson said that allowing the forwards to slow the game down and gradually gain meters was key.
"In the second half, we were able to kick the ball because the wind was at our backs," Jenkinson said. "That helped us push play into Niagara's half and force handling errors on their behalf, and then that allowed us to make plays off of that."
Feickert thought that the game plan to keep the ball in Niagara's end led to Buffalo State's try during the second half. He said that containing Niagara was critical and made it possible to kick for points.
Kicking for Buffalo State was Collin DeGuehery. DeGuehery put up five points for his team in Saturday's game despite harsh weather conditions
"Well, since we were playing with the wind in our back in the second half, I knew if I backed up more I could have the wind at my back and that would help," DeGuehery said. "So I was playing the wind. Get it up in the wind and the wind will take it."
Jenkinson said that after the loss against Cortland last week, the team went into practice focusing more on the basics of the game in order to prepare for Niagara.
"We were way too individual last week, and it hurt us," the coach said. "We didn't play as a team so we kind of got a little bit more team building going on this week at practice and just worked on the little things like that."
Contributing to the win Saturday was the club's B-side players. In rugby, many teams will have a second team that practices with starters and play separate games after the starters. The B-side, as it's called, is similar to a junior varsity team in other sports, oftentimes having less experienced players and rookies.
"They've actually been very competitive," Jenkinson said about the B-side players. "[They've] scored lots of tries; really some sound tacklers, some good athletes. They're really pushing the first side every day at practice."
Freshman track athlete VeQuan Carper was at the game to support his friends, some of which were on the B-side. Carper said the game was exciting to watch, but thought the weather could have been better.
"I don't see how they can play in this sort of rain. I played football and it was never like this," Carper said. "They must be freezing."
The men's rugby team faces Fredonia this Saturday at home. Jenkinson expects his team to work harder and improve in the coming weeks.
"Right now it's just getting things sorted out, really pinpointing the small things that make the game incrementally better," Jenkinson said. "We're doing very good right now, but it's the little things that'll take us over the top."
The game will be held on the field next to R-14 parking lot off Rockwell Rd at 1 p.m.
Patrick Koster can be reached at [email protected]