Men's rugby handed first loss of season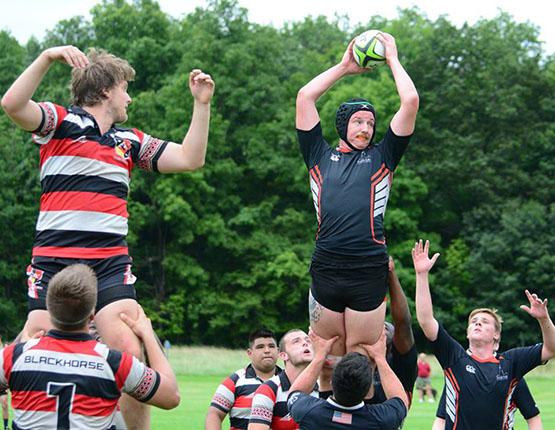 The Buffalo State men's club rugby team was facing its toughest test of the season and had an undefeated record on the line Sunday.
Unfortunately, the Bengals effort wasn't enough as they lost to Cortland, 43-19.
According to captain Justin Brzyski, Buffalo State hadn't faced Cortland since 2009.
"We knew they were going to be our hardest opponent yet," Brzyski stated. "A lot of people didn't know what to expect because we haven't seen them; we don't see them regularly."
It was a bright, sunny day with little wind. The Bengals came out with intensity, scoring the first try of the game. The first half of the game was full of big plays on both sides of the ball.
But by the second half, Cortland was taking control of the game.
"We were definitely nervous about the game. We actually came out hard in the beginning and we were actually up by two tries," senior winger Ethan Walsh said. "In the second half, we kind of lost things. We got down on ourselves after they scored, and you know, props to Cortland. They came out hard and they went super hard the second half. When they had the momentum, they just didn't lose it."
The pace of the game slowed down as the second half progressed. Buffalo State's offense had difficulty scoring tries against a strong Cortland defense.
"We couldn't really run-and-gun against them, and we wanted to be able to control the ball," head coach Rob Jenkinson said. "That's pretty much the only way we could do it at that point, just keeping it into the forwards and really kind of slowing the game down."
While the pace of the game slowed down, some bad bounces and missed tackles diminished the Bengals chances of winning.
"Some balls didn't bounce our way and we got a little unlucky, not making any excuses, but that hurt us sometimes," Walsh said. "We're just going to come harder next time and we're not going to make the little mistakes we made."
Center Edem Wade thought that his team was weaker at the point of attack than they had been in previous games.
"Defensively, we weren't meeting them and also we just weren't making tackles," Wade stated. "There were certain situations where we needed to be aggressive; we let them get the upper hand, we let them bring the aggressiveness to us."
Buffalo State's defense did make some big stops, especially in the second half, regardless of the little mistakes.
"We made a good stand on defense," Walsh said. "There was a lot of heart, but we're just going to have to train harder and be more prepared for their weapons next time."
Brzyski thought the loss was a learning experience. He said that he thought the loss will make the team practice harder and come prepared for future games. Brzyski pointed out that last year, the team went undefeated until their season ended in the playoffs. With this loss coming earlier in the season, Brzyski thinks it will give his team more time to recuperate and correct their mistakes.
"We'll definitely have some things to look at," Jenkinson said. "It's going to change our outlook a little bit. Hopefully, we'll be able to come out a little bit stronger and a little harder in the future."
The team faces Niagara this week, and players are determined to make improvements.
"We're going to go into Niagara next week stronger, more focused [and] adhere to the task," Wade said. "Going into these future games, we know what we need to change, we know what we need to manipulate in our game to better ourselves and enhance our chances to win."
"We're not broke," Jenkinson said. "So we don't need a whole lot of fixing, but we do need some fixing."
The men's team plays at home against Niagara this Saturday at 1 p.m. The game will be held on the field next to R-14 parking lot off Rockwell Rd.
Email: [email protected]