Study Away Fair informs Students about new Opportunities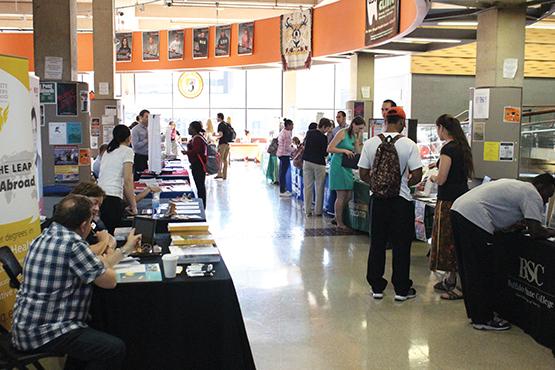 SUNY Buffalo State hosted its annual Study Away fair in the union plaza on campus on Wednesday, Sept. 24, sponsored by Buffalo State's International Education Office.
Representatives from programs at Buffalo State as well as from other SUNY schools met with a large crowd of students to tell them about their programs.
"Each program is different," said Melissa Conwell, department assistant of the International Exchange Program.
Buffalo State offers a large variety of different programs some that are overseas in England, Spain, Australia, Turkey, the Netherlands, China and Quebec, as well as other programs that vary from year to year. Conwell described the experiences of students who study abroad as "life-changing."
"Students have positive experiences, and I'm not just saying that just to say it," she said.
Students who want to travel abroad are required to have a GPA of 2.5 or higher. There are no required credits. However, students should meet with their advisors to see which programs will best fit their majors.
"Definitely meet up with an advisor to see what classes you need and to create a fit schedule," Conwell said.
Students can study abroad for either a semester or a full year. The length varies for each program. Students can apply online at http://buffalostate.studioabroad.com, and are required to pay a $30 application fee.
A big concern for most students is the cost. However, financial aid can be applied to tuition and room and board.
"People think that they can't get financial aid, but they absolutely do," Conwell said.
Another concern for students studying overseas is the language barriers, but they don't need to know a foreign language to travel abroad.
Conwell said that students who want to travel abroad should start planning as soon as they can.
"It is life-changing and you become more worldly," Conwell said. "It's a completely different experience."
Buffalo State also offers other exchange opportunities with over 200 campuses within the country.
"Crossing state lines is still gaining cultural experience," said Christine Frezza, director of the National Student Exchange Program. The National Student Exchange Program varies from year to year, sending 20 to 60 students to different campuses across the nation. In order to join the exchange, students must be going to school full-time, have an established GPA of 2.5 or higher and be in good standing with the college. Paper applications for the program can be found in the National Exchange office in South Wing 420. Along with the application there is a $180 fee, and students can apply to up to eight schools. Students can go for one semester, fall or spring, or for a whole year.
Financial aid can also help students whether they are studying away for a semester or a year.
"It's affordable," Frezza said. "Financial aid will go through Buffalo State as it normally would, and students can go paying the Buffalo State or the in-state fees."
Students are encouraged to live on campus where they are staying and pay the in-state price for room and board.
"Start planning as soon as possible, talk to advisors to see when the best time to go it," Frezza said. "It's something to add to your resume. Employers will look at it and see you can adapt to change. And you experience lots of personal growth, become a lot more independent."
Representatives from other programs offered from a wide variety of SUNY schools were also at the fair, including Hattie Paterson, study abroad adviser at the College at Brockport State University, and Talah Omran, international officer at Roehampton University. Together, Brockport State and Roehampton University have "a whole suite of different programs," Omran said.
Each program lasts for a different length. Students can take either four semesters of classes, with summer courses as well, three-week sessions during a semester or six weeks over the summer.
"You can take subjects for your majors or minors, and (general education credits) transfer easily," Paterson said.
"It's really easy to apply," Omran said. "Look at Brockport's study abroad page and look at the programs and the budget sheet and see what the application process is like."
All information as well as the applications is listed on Brockport State's studying abroad page. The costs for each program vary.
"All programs are priced differently, and each financial aid is unique. The financial aid office will have to look at it," Paterson said.
Planning for each program depends on when you want to go.
"Start planning the semester before you want to leave," Paterson said.
Both Omran and Paterson believe that studying abroad is a great opportunity for students. "Say yes to every opportunity," Paterson said.
"Step outside your comfort zone and apply to lots of scholarships," Omran said. "Just do it."
Email: [email protected]