Women's soccer finds some offense in shutout win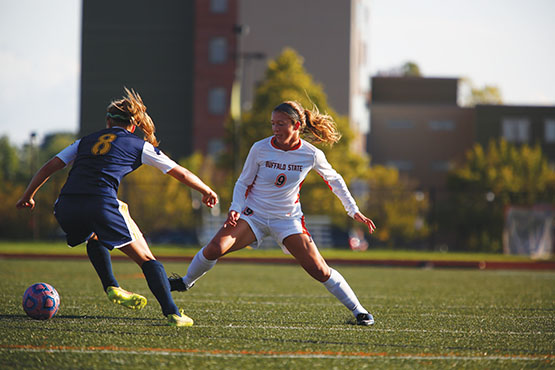 Fighting both the wind and their four-game winless streak, the Buffalo State women's soccer team turned it around in a big way with a 4-0 victory over Medaille on Sept. 20.
"I feel like our spirits are brought up a lot," sophomore forward Micky Tinnerman said. "We had a tough beginning of the season, but now that we played a team that we brought ourselves above, we are a little bit more confident and are ready for the next round."
So far this season, the Bengals have struggled scoring goals, their season-high for goals in a game was just one, before tallying four against Medaille.
Freshman midfielder Malyssa Chanthasoto ended their scoring rut by scoring two goals in the game.
"It's still hard to swallow. I can't believe it happened because I am a sub, I am a freshman and I don't really play much," Chanthasoto said. "This is my 4th or 5th game, and I am really excited about it. I am going to treat it as something that's going to hopefully happen again. I am going to be composed and hopefully keep doing that for the rest of the season."
The beginning of the match was passive on both sides. No solid shots occurred until the 22nd minute, when forward Megan Chapple scored her second goal of the season. After the first goal, Buffalo State was revived. Shortly after, Chanthasoto scored her first goal of the season, giving the Bengals a 2-0 lead.
Buffalo State continued its offensive success in the second half, scoring three minutes in. Tinnerman squeezed it under the goalie for her first goal of the season.
"That's how I score most of my goals, really. I never really have a clean shot on net," Tinnerman said.
Buffalo State held the ball for most of the second half and finished their scoring with Chanthasoto's second goal of the game.
The shutout was Buffalo State's third shutout of the season and a contest in which the Bengals allowed just four shots on goal. Even with those numbers, head coach Nicholas DeMarsh seeks improvement for his backline.
"I thought we were casual and a little sloppy," DeMarsh said. "I think we can keep a better hold of the ball. We need to be better recognizing when we have time and when we need to clear our lines. I will take the win and I'll take the four goals because we haven't been scoring goals. I am going to look at it as a step forward. It's a great day to be a Bengal."
The wind reached 25 mph during the game but when asked, the Bengals claimed they still felt like they had home-field advantage.
"Oh yeah, we train on this field. We are used to the wind all the time," Tinnerman said.
Buffalo State (2-3-2) will travel to Brockport (5-1) on Friday for their first SUNYAC game of the season.