Saxons efficient on third and fourth down to dominate time of possession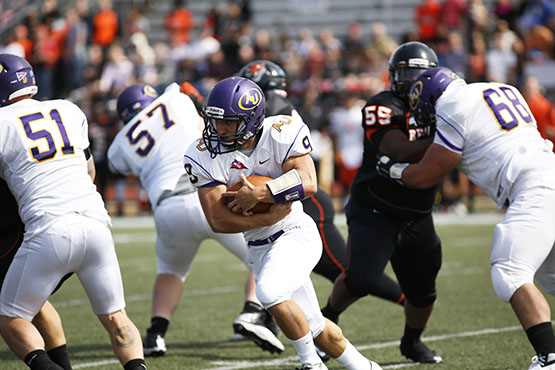 With 3:22 left in the fourth quarter, SUNY Buffalo State was trailing Alfred 29-21 as the Bengals offense took the field. Unfortunately, the Bengals couldn't find a way to score and bring the game into overtime as they did in the season opener two weeks ago.
It was a perfect day for football to finish off homecoming week at Buffalo State. Clear skies surrounded Coyer Field as the Bengals hosted Alfred University this past Saturday.
During the fourth quarter, while "Let's go defense!" was being chanted by Buffalo State fans, the Bengals blocked an Alfred punt that would have put them in good field position to start on offense. A roughing the kicker penalty was called on the Bengals which negated the block and instead gave Alfred 15 yards and a first down.
"It certainly had the appearance of a blocked punt, but that's an extra two minutes right there," Bengals head coach Jerry Boyes said.
It wasn't until two minutes later that Buffalo State was able to get the ball back, when senior defensive back Sherman Nelson intercepted an Alfred pass.
"That was very devastating; we should've got that call," junior linebacker Shaq Frederick stated. "We just have to keep on playing hard."
Both Empire 8 teams were 2-0 coming into the game, but only one remained undefeated. While the Bengals offense had trouble with consistency, many factors hurt them in the loss.
Alfred dominated time of possession Saturday, as the Bengals had the ball for only 19:37, as opposed to the Saxons' 40:23.
"I feel like at the beginning they controlled the ball," sophomore quarterback Kyle Hoppy said. "I think that part of their game plan was to keep us off the field. We'd like to get a lot of chances out there, and it's tough when you get pinned down in your own end and you can't get out of there. It just puts a lot of pressure on the defense."
"First of all, Alfred's a very, very good football team," Boyes said. "But, at the same time, Buffalo State had a large part to do with beating Buffalo State today, because of turnovers and lack of execution at some very key times."
Another issue the Bengals offense faced was third down conversions. Buffalo State converted just 6 of 13 third down conversions, and went 0 for 2 on fourth down conversions.
"We still had some opportunities; we just didn't take advantage of them," Boyes said.
Buffalo State only scored once in the first quarter and wasn't able to put another scoring drive together until the third quarter.
"They brought a lot of pressure from the inside, which made Hoppy scramble and the d-ends would go out and just make a tackle," junior offensive lineman John Knudsen said of Alfred's defense.
Although the offense was having a difficult time maintaining control of the ball, defense kept the Saxon's offense out of the end zone numerous times but were hurt by allowing many big plays.
"We were shutting them down," Frederick said. "They just got away with a few big plays on us, that's all."
15 to 20 mph wind gusts also played a role in the game and caused the football to fall off the kicking tee twice just before the Bengals were about to kick off.
"Not really. Special teams, yes," Boyes said about the wind affecting his team's game plan. "There were some things we did because of the wind. But from an offensive/defensive standpoint, we really ran plays regardless because I didn't feel the wind would affect that piece of the game."
Patrick Koster can be reached at [email protected]