Too little, too late
Bengals' offense sputters early, Hoppy nearly orchestrates fourth-quarter comeback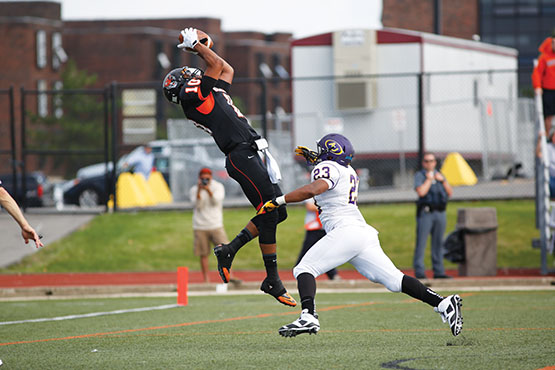 The Buffalo State Bengals took on the Alfred University Saxons Saturday at Coyer Field, where a sold out homecoming weekend crowd was roaring and ready to go, but the Bengal offense was not.
The Saxons stifled the high-powered Bengal offense that put up 111 points and compiled 1,137 yards of total offense in its first two games en route to a 29-21 victory.
"It's too bad, I wouldn't say we had any type of letdown but we didn't execute very well offensively today," head coach Jerry Boyes said. "The age old adage, 'the number one factor that determines the outcome of a game is turnovers' certainly is true. First of all Alfred is a very, very good football team, but, at the same time Buffalo State had a lot to do with beating Buffalo State today because of turnovers and lack of execution at some very key times."
The Bengals made it a one-possession game late in the fourth quarter when sophomore quarterback Kyle Hoppy connected with senior wide receiver Ryan Carney for a 34-yard touchdown. However, that's as close as Buffalo State would get, turning it over on downs with 1:32 left.
After passing for over 600 yards in his first two career starts, Hoppy finished the game 8 of 27 for 138 yards and a touchdown while throwing two interceptions. He also added six rushes for 34 yards and two touchdowns.
Hoppy felt that the defense really shut down the things they had the most success with in the first two games, but wasn't happy with his performance and also wasn't looking to make excuses.
"They threw a couple different things to kind of shut down what we had successful in the first two games," Hoppy said. "But we had a game plan coming in and it's all about execution with us. Too many times we didn't execute and drives stopped a couple turnovers out there on offense a little bit."
Senior Mike Doherty, the team's leading receiver, was also shut down. After compiling over 330 yards and four touchdowns over the first two weeks, Doherty was held in check to the tune of four catches for 64 yards. He was double covered for most of the day, which was something he expected, but thought that they could work around it.
"Playing Alfred last year they didn't double cover me," Doherty said. "But today I had a really good feeling that's exactly what they were going to do. I just think we probably should have spread the ball out more."
Alfred also constantly mixed up the pressure they were bringing to keep Hoppy uncomfortable all game.
"They stunted a lot," junior offensive lineman John Knudsen said. "They brought a lot of outside pressure, they brought a lot of pressure late, and they brought a lot of pressure from the inside, which made Hoppy scramble and the defensive end would just go out and make the tackle."
After being able to light up the scoreboard in his first two career starts, getting shut down by a defense wasn't something Hoppy had to deal with yet, but Boyes wasn't too concerned.
"This is his third collegiate football game so he still has a lot of growth to do," Boyes said. "But I've seen this every week, I've seen some growth from him too, I feel we're moving along okay we can't let one game define us."
The Saxons defense was led by senior linebacker Justin Liberta, who recorded a team-high seven tackles to go along with a forced fumble and an interception. The defensive unit as a whole finished the game with eight tackles for a loss.
Senior running back Rich Pete struggled to break free for most of the game, but still finished with 22 carries for 116 yards. He also added one catch for 16 yards and had a costly fumble.
Alfred's sophomore quarterback Tyler Johnson finished the game with 17 completions on 27 pass attempts for 163 yards and two touchdowns, both to sophomore wide receiver Brendan Buisch. He also led the team in rushing with 25 carries for 111 yards and added a rushing touchdown.
Junior linebacker Shaq Frederick led the Bengals in tackles for the second week in a row, recording 12 stops. Senior defensive lineman Trezz Bailey, junior defensive back Marquis Artis, and junior defensive back Mitch Thomas each had 10 tackles. Senior defensive back Sherman Nelson, who was making his first career start at the position, had his first-ever interception and Thomas added one as well.
The Bengals kicked off to Alfred to start the game and allowed them to march 75 yards in 15 plays and consume over nine minutes of the clock after failing to stop Saxons on third down four times. The drive was capped off by a 13-yard pass from Johnson to Buisch. The extra point attempt failed and it was 6-0, Saxons.
The Bengals then answered with a touchdown drive of their own that was capped off by Hoppy eluding two tackles and rushing 37 yards to the end zone. The broken play led to a touchdown and gave the Bengals a 7-6 lead.
At this point, the sellout crowd was loud and excited. However, the excitement would not last.
The game slowed down in the second quarter as both teams traded punts. The Saxons went back on top when sophomore defensive lineman Zack Bacon intercepted Hoppy's pass and returned it 13 yards for a touchdown ,which made the score 13-7 with 5:42 left in the first half. Alfred then chipped through a 38-yard field goal with 47 seconds left in second quarter to take a 16-7 lead into the half.
The Bengals received the ball coming out of half and they seemed to finally have some rhythm going for the first time since the first quarter. They started with a 28-yard pass from Hoppy to junior wide receiver Billy Joiner and then added a 17-yard run by Pete, which set them up with a first down on the Alfred 28. However, two plays later, Pete fumbled the ball deep in Alfred territory.
Alfred took advantage of the Buffalo miscue and turned it into a touchdown on a 41-yard Johnson rush. The Saxons followed up on their next drive after a Buffalo punt with another touchdown, an 11-yard pass from Johnson to Buisch to take a 29-7 lead with 55 seconds left in the third quarter.
It wasn't until the first drive of the fourth quarter when the Bengals would finally get their rhythm back. Hoppy's 5-yard touchdown run cut the deficit to 29-14 with 12:20 remaining in the game. Then with about 8:53 remaining, Nelson, starting his first career game at defensive back, intercepted Johnson's pass and gave the Bengals hope for a comeback.
"It was a scramble drill so I tried to stick with my receiver as much as possible," Nelson said. "But when I turned around, I saw the quarterback was eyeing the second wide receiver so I had come down to where the play was and the ball was tipped my way and I made a play."
The play seemed to energize the team and the crowd as the Bengals scored on just four plays in 56 seconds, capped off by Carney's touchdown catch to cut the lead to 29-21 with 7:57 still to go.
The Bengals defense forced punts on the next two Alfred possessions and had two chances to tie the game but went three-and-out both drives. Alfred was able to maintain possession until time finally expired.
"Just disappointed we didn't get it done," Boyes said. "We had some miscues during that time and I've got to look at us with that because it was communication and the misread of a play that cost us dearly. It really cost us dearly, it happened in the ball game unfortunately so we'll have to make sure it doesn't happen again."
The Bengals were seeking their first 3-0 start since the 1999 season. With the loss, they fell to 2-1 on the year and 0-1 in conference play. They will play another Empire 8 Conference game when Salisbury comes to town this Saturday.
"Right now the Empire 8 is a conference where anybody can beat anybody," Boyes said. "It really is a great, great division-three football conference so every week is extremely important to us."
Despite one bad game, Doherty hasn't forgotten about how good the first two were and is looking forward to next week.
"If we play the way Buff State can play we can beat anybody, " Doherty said. "We just have to make sure we're ready."