Men's soccer ends losing skid with 6-0 victory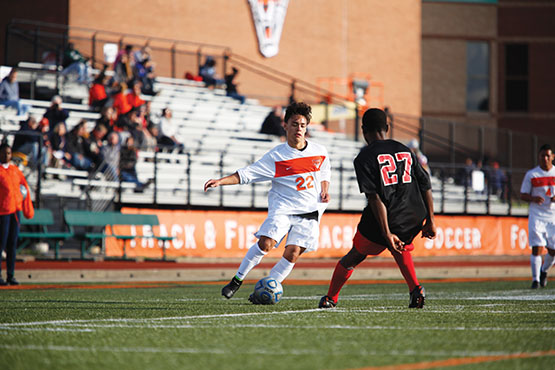 Struggling to find an identity and wins, with a grueling SUNYAC schedule on the horizon, it was up to the Buffalo State men's soccer team to make a statement Thursday night at Coyer Field against a winless D'Youville team.
The Bengals answered the call and snapped a five game losing streak by beating D'Youville, 6-0. The feel-good win came at just the right time with SUNYAC play opening up on Friday.
The story for the Bengals was what it has been for the past couple weeks, offense. Sophomore Joe Vucic continued his hot streak, scoring a pair of goals to lead the Bengals. A variety of new faces showed up in the score column for the Bengals as well, freshman forward Adonis Martinez and midfielders Bryan Daigler and Darryl Potter each netted their first goals of their careers.
Second year head coach Mark Howell was extremely proud of his team's performance after coming off a string of tough losses.
"For us it was all about bouncing back and doing the right things," Howell said. "For our younger guys getting the opportunity to get out there play and make an impact, it is doing wonders for them."
The goal of the team was to control the game from start to finish, but they couldn't translate their ball dominance into points until around the 18th minute, when Vucic netted the first goal. The Bengals then poured on two more goals in the next five minutes to effectively seal the fate of the Spartans before intermission.
The biggest focus for the Bengals moving forward now is to focus on their defensive intensity. The Bengal defense has been under a lot of fire lately, allowing 2.29 goals per game. They hope that a personnel switch can stop an undefeated Brockport squad.
"Defensively, we are still coming together, we still have lots of work to do," Howell said, "We have a new group back there that played well for us (Thursday) and we hope that carries over.
Senior captain Francesco Cardillo has been all over the field for the Bengals all season and uses his experience to motivate his teammates. He sees something special in this team and is ready for the SUNYAC competition to begin.
"Confidence is very high, not only for our younger players, but the team as a whole," says Cardillo, "Keeping on them in practice and having competition to make them work harder is what has to be done."
The start of the Bengals 2014 season was a bit of a rocky one, but there is still enough time to right the ship and turn it all around, as the Bengals prepare for what effectively is an all or nothing situation.
Vucic, the team's leading scorer, has been on fire all season and to him, the beginning of league play cannot come soon enough.
"You just have to put it all on the line from beginning to end," Vucic said. "Winning happens when everyone does their role and gives 110 percent effort."
The road will not be easy, the Bengals end their home stand against Brockport Sept. 23, then they hit the road for a four-game road trip against the likes of Geneseo, Cortland, Oswego and Alfred.
"Brockport is an undefeated tough team with a good dynamic offense," Howell said, "To win we have to be defensively sound and keep the offensive intensity going because this is only the start of a long SUNYAC schedule."