Anne Frank's legacy paves way for leadership in annual project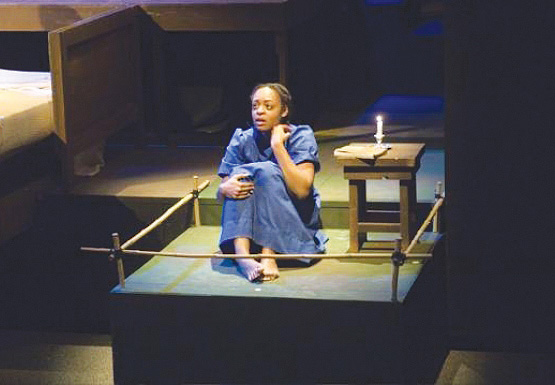 Anne Frank once said, "How wonderful it is that nobody need wait a single moment before starting to improve the world."
Buffalo State can join in that improvement, as students are invited to volunteer to attend the fifth annual Anne Frank Project, on campus Sept. 10-13. This year's theme is "Transforming Lives."
The project all started with a play in 2006, which was based on the idea that there's an Anne Frank in every genocide.
"This was the nerve that started the project," said Drew Kahn, director of AFP 2013.
Assistant director Eve Everette played the part of Frank in the play, which told the story of two Franks who lived 50 years apart: one Frank living during the Holocaust, and the other living during the Rwandan genocide.
"The project continues stories that can't carry on themselves," Kahn said. "The play brought out lots of emotions and good feedback.
A Holocaust survivor, Sophia, wanted to get the cast of the play together on June 12, 2009, to have a party for what would have been Frank's 80th birthday. Kahn took the idea further, and wanted to have a conference.
From the beginning, AFP was a "doing" conference. All of the activities were designed to be interactive and based on peace and forgiveness — the concepts that Frank stood for.
Kahn presented his ideas for the first AFP. At first, faculty and students were wary and unable to conceptualize his vision. After the conference, however, they were blown away by how everything connected.
"It jumpstarted the momentum," Everette said.
AFP has now grown to a year-round project with three tiers: Local, national and international.
Locally, AFP is in the schools. Nationally, there's a three-day conference hosted on campus in the fall. Internationally, AFP group works in Rwanda every January.
One volunteer who's building on the project's momentum is Francis Hughes, a senior theater major. She describes AFP as an active project, adding that the sessions allow people interact, deal with conflict and learn how to apply what they absorb to every aspect of their lives.
"The sessions are safe spaces to share and build relationships," Hughes said. "It's a really cool way to get involved on campus right away. It opens up opportunities if you go to things."
Kahn said that AFP will continue to focus on the freshmen class, which usually consists of students who are 18-years-old.
"We're training a new generation to not be a bystander," Kahn said. "When you do, you feel life has purpose."
The conference is designed for undergraduate students, yet it is still open for everyone to attend.
"We provide vocabulary tools for reconciliation and community building," Kahn said.
Everette said that one of the best parts of the conference is that students and scholars present right next to each other.
"They're brilliant minds in the same conference," Everette said, noting that the conference is different than others because it gives students a chance to interact with each other and other presenters. "You get to know each other, no matter what."
"I've never walked out of a session bored," Hughes said.
Everette said those who leave the conference are inspired to intern and get involved in the community, helping and doing their part to live out Frank's message.
"People are inspired and it brings joy," Everette said. "Step out of your comfort zone."
With the project growing each year, the directors had to start early to coordinate this year's conference. They started putting the project together in February, and Kahn fondly refers to the conference as "a beast."
Though it's a lot of hard work, both Kahn and Everette are thankful for the large crew of people willing to help them out.
"We have an incredibly supportive campus," Kahn said. "The campus has embraced it as its own."
Colleen Young can be reached by email at [email protected]
Leave a Comment