Men's rugby remains undefeated after defeating Geneseo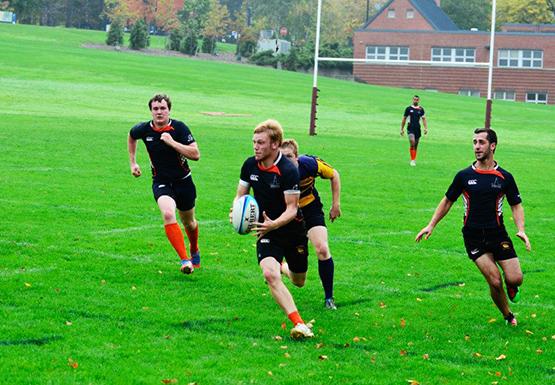 The Buffalo State men's rugby team improved to 2-0 after a 34-5 win against Geneseo on Saturday.
It was a slow start for the Bengals, who led 8-5 at halftime.
"Geneseo did a very good job of controlling the pace of the game," head coach and Buffalo State alumnus Rob Jenkinson said. "We weren't able to really get going until the second half."
But once they did get going, Geneseo didn't have many opportunities to put points on the board.
Junior winger and president of the team, August Edwards, played the majority of the first half despite having an ankle injury. Edwards said that the slow start was due to a lack of cohesiveness that the team found later in the game. He felt that they played well overall.
"We started off rough in the first half, but we pulled it together and in the second half we really did great." Edwards said.
Senior captain Christian Feickert said that Geneseo is usually a tough team to face.
"Geneseo is always right with us; we only beat them by one point in the regular season last year," Feickert said. "So we knew they were going to be tough."
Feickert also said that many of his teammates stepped up to make big plays.
"They all played well," Feickert said. "There were big games from everybody all over the field."
"Everybody played really good defense, honestly, the majority of the time and our offense kind of picked up in the second half."
Buffalo State's next opponent is Hobart College. Last fall, the team played its final game of the regular season against Hobart, and came out with a close 59-43 win. In that game, Buffalo State rested many of their starters in order to prepare for the playoffs and give others more playing time.
The team is confident going into the game against Hobart.
"I'm 100 percent confident we're going to come out with a win in this one," Jenkinson said. "I don't do that very often, but Hobart typically travels pretty light and it's our first home game."
When asked if he thought the team could potentially go undefeated again this season, Feickert said:
"We've got Cortland after [Hobart] and Niagara after that, and they're supposed to be our two toughest opponents. So we just have to roll with the punches and see what happens."
The men's game against Hobart is this Saturday at 1 p.m.
Women's club rugby plays the same day at 11 a.m. versus Geneseo.
Both games will be held on the field next to the R-14 parking lot off Rockwell Rd.
Patrick Koster can be reached by e-mail at [email protected]