VSLC builds community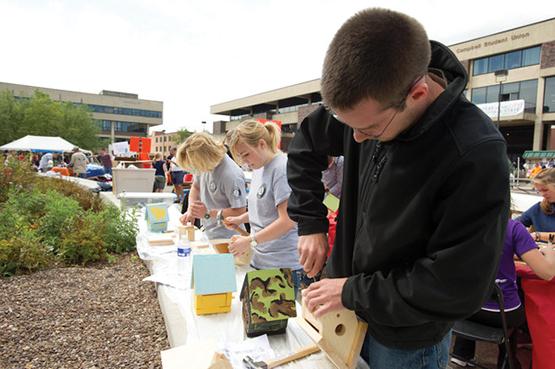 The Volunteer Service Learning Center at SUNY Buffalo State gives students a chance to get involved.
Located in Cleveland Hall 306, the Volunteer Service Learning Center, or VSLC, helps students find projects on and off campus that they can participate in. Students have the option to be a part of events for a day, or prolong their volunteer work.
Laura Hill, coordinator for the VSLC, has been working in the center since it first started out, about 11 years ago. She oversees the center and assists students who want to become involved in the community.
"The VSLC is great opportunity for students to explore: Explore issues, explore career goals, find out what they are passionate about," said Hill. "The more you take advantage of these opportunities it's going to set you apart in your job search. It's going to set you apart when you are applying to graduate school. And it's going to give you experience. It's going to give you a leg up when you are ready to start in the work world."
As part of the Career Development Center, also located in Cleveland 306, VSLC offers the Online Resource for Career Advancement, or ORCA, a way to find not only jobs and internships for students, but volunteer opportunities as well. [check into whether VSLC does this or if the CDC is in charge of this. I believe it is the CDC] Students can login on the VSLC website using their Banner I.D. and make connections with community organizations. Although, ORCA may seem like just a person in a mascot outfit appearing around campus it is also an excellent way to find new ways to get involved.
Service learning is a course-based way of volunteering. It is driven by faculty who want to bring volunteering into the classroom and get students hands on opportunities with community organizations. This is a way to apply the learning from the classroom in real life. Communications professor Jack Karlis is currently teaching COM389, Media Technologies and Mass Communication, which is a service learning class.
"It's probably the toughest test you'll take is going out and putting that practical experience in there so it's really important," he said.
COM 389 students are working with the University Police Department to create a social media policy and strategy to help them communicate with the student population. The faculty involved in service learning benefit from these classes as well.
"It helps the professor one, see what they taught their students in theory be put into practice and another part of that is two, it also validates what the teacher is teaching, that the students see yes, this is used outside of the classroom walls," said Karlis.
There are roughly 104 service learning classes at Buffalo State spreading throughout different majors.
The VSLC also coordinates Alternative Spring Break consisting of a small group of students who decide what cause they want to volunteer for. This fall, from Nov. 7 to the 9, students will be doing hands-on projects to help out Veterans and spread awareness about homelessness. Not all alternative breaks are local. Some offer the opportunity to travel. Richie Wills, a recent graduate of Buffalo State who was the co-coordinator of Alternative Break, describes his experience on a break in Rochester. Students assisted Habitat for Humanity in finishing a home they built for a homeless woman. When they surprised her with the new home she was overcome with tears. Wills recollects how it felt to "just see the impact it has on even one person" and knowing you are "being a part of something bigger than yourself." The VSLC "really truly impacts the community around them," said Wills. "It is definitely a good opportunity to do something new, something different."
Coming up on Sept. 11, the VSLC has planned a volunteer fair in honor of National Day of Service. Activities include building birdhouses for community gardens, making no-sew blankets and waterproof mats will take place in the Plaza from 11a.m. to 1p.m. Also, at that time organizations will be setting up tables for students to come and take an interest in their cause. Later in the semester, on Oct. 18, the VSLC will be having a Community Service Day, a one-day opportunity where students are sent to organizations to assist with community projects. This service day will be one of the events that make up the week of activities as part of the new presidents' inaugural week.
Sarah Nieman can be reach by e-mail at [email protected]