Alumni bringing austim awareness to community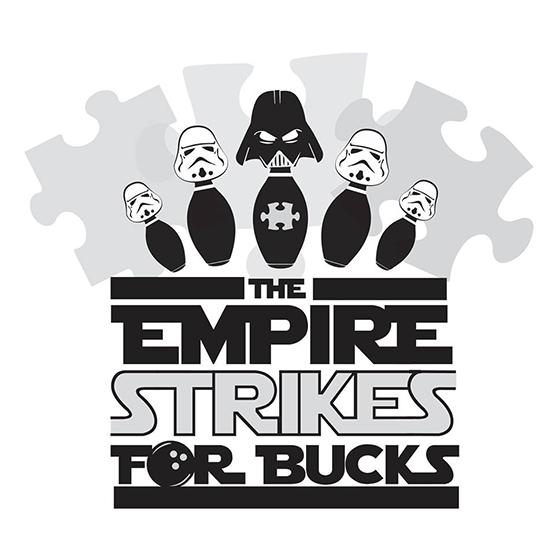 Storm Troopers strike out at Thruway Lanes in Cheektowaga bringing awareness to autism.
This year marks the second annual Empire Strikes for Bucks, or ES4B, charity event. Raising $2,700 in their first year, benefits went to Summit Education Resources, which provides services for those with developmental disabilities such as autism.
After graduating with a Bachelor's degree in 2010, SUNY Buffalo State alum Nick Rockwell completed his master's degree in special education last May. Rockwell teaches at Summit Educational Resource and got a taste for charity work after being captain of a walk team for the Summit Autism Walk.
"I was inspired by the passion of those who volunteer and the generosity of those who support these kinds of events," he said. "It motivated me to try to organize an event where people had fun supporting a great cause. I wanted there to be activities that appealed to everyone, including people with autism, like the ones I teach at Summit."
A group of Star Wars cosplayers called The North Ridge are known for supporting charity causes. The Star Wars characters are ready for photo-ops with the kids, and are activity leaders during the event. There's even a chance for kids to take "Jedi training" classes during the event.
Darleen Stry, mother of 10-year-old Daniel, who has moderate-severe autism and is completely nonverbal, attended last year's ES4B with her family.
"The actors involved in the event were given an extra set of patience that day," Stry said. "Usually it's trying to be in picture after picture just because you have a costume on. However, many of the kids, like my son, took several minutes to get 'settled' to take a good shot."
The variety of events had something to offer for all of the children that attended. She said the "average" siblings could do things like play video games, and take Jedi training while the autistic spectrum disorder, or ASD, children are given an environment that accommodates them. For example, there are ramps provided for them during their bowling games.
"Since you were with a bunch of families that had kids with autism, I felt comfortable there," Stry said. "For a change the people next to me didn't look like I was an alien when my kid started to 'sing' between frames."
This year's ES4B fundraiser includes an adult centered tournament. The three game team tournament features teams of four that compete for the highest score and most money raised. Open bowling, raffles, 50/50, face painting and an area with quiet activities also await attendees on from noon to 4 p.m. Sunday, Oct. 26 at Thruway Lanes in Cheektowaga.
"My fellow volunteers and I feel strongly that greater awareness and acceptance of autism will help our students and individuals like our students have more opportunities to interact with their communities," Rockwell said. "By creating this event in a way that is fun and accessible for people with and without autism, we feel that we are helping to raise that awareness. It was very rewarding to see that awareness and acceptance grow at our event last year and we look forward to witnessing a repeat at this year's event."
Looks like it's time to start practicing your bowling skills and those famous Princess Leia buns.
E-mail: [email protected]