Ice Bucket Challenge Soaks UPD & Campus Leaders
It is the viral trend that has invaded your Facebook newsfeed over the past two months – dump a bucket full of water and ice over one's head.
This movement, known as the ALS Ice Bucket Challenge kicked off when a former Boston College baseball player, Pete Frates', nominated himself via Facebook to be the first to combine ice water and awareness for Amyotrophic Lateral Sclerosis, also known as ALS or Lou Gehrig's Disease. Frates' challenged popular athletes such as Tom Brady and Julian Edelman, and public figures Rich Shertenlieb and Howard Stern to take on the refreshing burden of the quickest, coldest showers of their lives. Frates' motivation to begin the dare taking social media by storm came from his diagnosis of ALS back in 2012.
ALS affects nerve cells in the brain and the spinal cord, leading to muscle weakness, loss of the use of arms and legs, and problems with speaking, breathing, and swallowing.
The ALS ice bucket challenge became a way to inform others of the disease's existence while also encouraging donations for research for a cure to the neurodegenerative disease.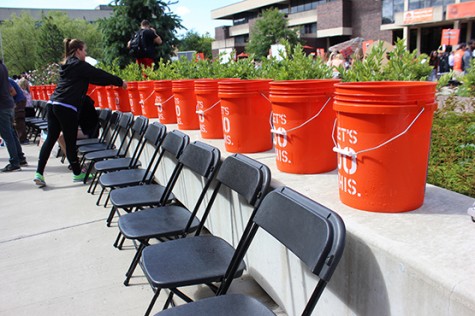 Common challenge rules consist of a nominated individual to take less than 24 hours to either decline his or her nomination – and therefore donate $100 immediately – or to upload a video of himself or herself taking the challenge, agreeing to donate at least ten dollars, and nominating three more people to participate as well.
Abiding by similar rules, UPD accepted their nomination from University at Buffalo's Police Department on August 28th by presenting a check of $500 for donation and allowing faculty members and students to dump buckets of ice-cold water on top of their heads afterwards.
Chief of Police, Peter Carey took the time beforehand to nominate SUNY Buffalo's dean of students Charles Kenyon and director of athletics, and head football coach, Jerry Boyes – as well as Canisius College Department of Public Safety – who each completed their challenges the following week.
Chief Carey shared that he and the rest of the department have contributed to other charities as well by participating in fundraisers such as the Polar Bear Plunge for the Special Olympics and Goatees for Charity for the Lt. Colonel Matt Urban Human Services Center of Western New York, and wearing pink ribbons for breast cancer awareness.
He also guessed that the reason why people are encouraged to donate money through fun activities such as the ALS Ice Bucket Challenge is because "there are so many worthwhile charities, that when you find something motivating, you need something that captures people's interests."
Buffalo State United Student Government President Ashleigh Sutherland's interest was piqued when she first began seeing the ice bucket challenge being done and shared online. Like other known figures – locally or worldly – who have helped to spread awareness of ALS, she felt that her position as president of USG at SUNY Buffalo State could help to make a difference.
"With me, I thought it said a lot. The person, who stands for all undergraduate students, went out there and took the challenge," Sutherland said. "I didn't do it for myself; I did it for everyone so everyone could realize, 'it's bigger than us' not just 'Ashleigh did it, but the USG president did it.' She did something that year that made a difference for someone else."
A big motivation for Sutherland and Chief Carey to take the challenge and donate to help find a cure for ALS was news that the disease had affected a member of the SUNY Buffalo community – director of the Weigel Health Center, Dr. Theresa Stephan Hains.
Dr. Hains lost her husband Jack Hains in 2010 after his long battle against ALS for 15 months. His vague symptoms did not ready him for the loss of his voice at work and the diagnosis of the beginning of the disease in his throat. Three years later, Dr. Hains lost her sister-in-law, Jean Grant, to ALS in August of 2013 after Mrs. Grant first developed problems with the nerves in her feet.
Even though the cause of the disease is unknown, it has been found to be 90% nonhereditary and 10% hereditary.
Donations for the advancement in ALS research have been made out to organizations such as the ALS Association and ALS Therapy Development Institute. Thanks to the Ice Bucket Challenge, ALSA has raised $109.8 million as of September 6. This amount is almost 40 times the amount raised during the same period last year.
"I'm hoping some of that money will funnel to the research. I believe it's the research that will find the cause and cure of ALS," said Dr. Hains after reflecting on the generous donation made by over 300 million donors.
The Ice Bucket Challenge fundraising technique has been so effective that even local organizations such as Elmwood Village and local shops like Nugget's Healthy Eats have come together to host their own Ice Bucket Challenge Fundraiser to raise money and interest in volunteering for the City of Buffalo Animal Shelter.
To watch either of the ALS Ice Bucket Challenges, go to our Facebook, https://www.facebook.com/BSCRecord.