Campus celebrates the Year of the Innovator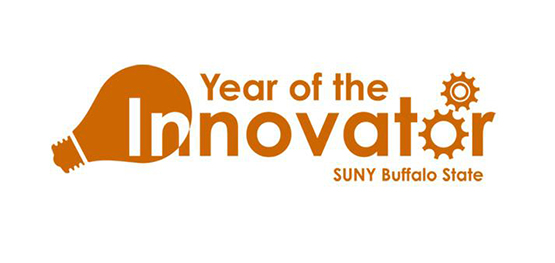 SUNY Buffalo State will celebrate the Year of the Innovator through the 2014-15 school year with events focused on creative solutions and innovation.
This is the fourth year the college has planned events around a theme, continuing the tradition set by former college president Aaron Podolefsky with 2011's Year of the Arts. Each year, a different school on campus oversees the events. This year, the School of Professions was chosen.
The theme is meant to highlight innovation by faculty and student entrepreneurs, said Rita Zientek, interim dean of the School of Professions. Zientek said she met with all the department chairs in the school, and they collectively decided on innovation as their theme.
"I think it's a theme that everyone across campus, students and faculties alike, can really engage
with," Zientek said. "There's so much innovation going on here at the college … in creative thinking and even patents being applied for by students and faculty."
Zientek emphasized the importance of students on campus getting involved in the theme.
"We want students to be involved, and we want students to take advantage of the opportunity that this year can give them," she said.
Zientek also encouraged students to contact her if they wanted the school to spotlight their work.
"I think it's a great opportunity for students who are interested in innovation or being entrepreneurs, or on the path to inventing something," she said. "It can be a way that the college can shine a light on what they're doing."
Highlighting the campus's work for people in the community is also one of the school's goals for the year. Zientek said the year's events can show the outside community what goes on at Buffalo State, because there is often so much happening that it's difficult for people off-campus to keep track of.
Each department in the school will organize at least one event over the course of the year. The Small Business Development Center is coordinating the opening event.
Susan McCartney, director of the center and special adviser to the provost for economic development, said her department was excited about this year's theme.
"Innovation is actually a rather American concept," she said. "It's part of the founding philosophy of America, and right up to 2014 we continue to enthusiastically embrace innovation in all aspects of people's lives."
The opening event, called Dare to Innovate, will take place from 6 to 8 p.m. Thursday, Sept. 18 at the Performing Arts Center in Rockwell Hall. It will be a seminar featuring five panelists, three of whom are Buffalo State graduates.
"They're inspirational," McCartney said. "It's a must-attend event. What a great way to start off your year."
Email: [email protected]