X-Country teams post strong performances in first meet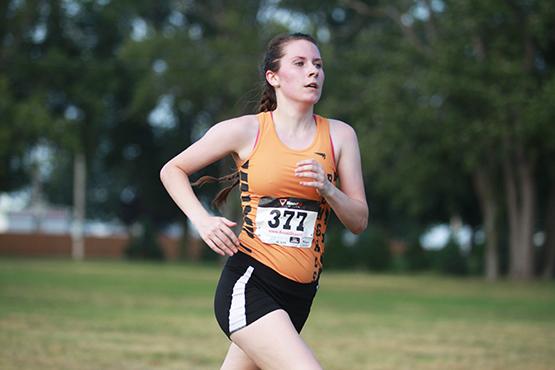 It is now official, summer is over for the men's and women's cross country teams here at SUNY Buffalo State. The end of summer signifies the beginning of a long season that will put their rigorous summer training regimens to the test.
Both teams participated in the Daniel Walker Invite held at the Erie County Fairgrounds Aug. 29, which could be labeled as a warm up meet for the upcoming Divison I/SUNYAC races.
This race marked the debut of newly promoted head coach Ridge Robinson. Robinson, who was the assistant head coach last year, replaced Dustin Dimit.
While embracing his new role as head coach, Robinson was optimistic about both his team's performance and his coaching debut.
"You know, I thought it went very well," Robinson said. "Usually this meet is just meant to bring in some of the alumni to come and watch how their schools are going to be this year, but I think the tone for both the men's and the women's seasons were set today."
Leading the men to a second place overall finish was a familiar face, junior Alex Ngabo, who placed third out of 52 runners in the 8k race (25:49).
"I am proud of the way that this meet went," Ngabo said. "I feel that I am ahead of schedule, definitely a lot better than I was in years previous."
Joining Ngabo with impressive performances were a pair of freshmen — Kyle Foster, who placed sixth overall (25:49) and Mitch Rabold, who placed 14th (26:28).
"I thought the freshmen did very well today," Robinson said of his freshmen finishers. "They finished above expectations and that is a great thing to see so early in the season."
On the women's side, junior runner Sabrina Brooks, who came back after a year off, picked right back up where she left off taking the top spot for the Bengals and placed fifth out of 70 runners in the 5k course, helping the ladies take fourth overall (19:52).
The Lady Bengals are undergoing a youth movement this season, with a roster that includes four freshmen, four sophomores, three juniors and two seniors. Some may say the Bengals are in for a rebuilding season, but Brooks doesn't see it that way.
"I am pretty happy considering the heat that we had to push through as a team," Brooks said. "We have a long way to go, but it is awesome to see all the new faces on this team that will make it better. I think the team will see a lot of improvement from the years past and surprise a lot of people."
Transitioning from the philosophies of one head coach to another can be difficult for any athlete, but Robinson feels that his athletes are ready and able to handle the transition well.
"I think it's going to be easier on them because I coached with them last year," Robinson said. "The former coach and I had similar training philosophies with a few subtle differences, but I think the change is going to be good."
His lead runner Ngabo buys into his new coach's system.
"Honestly, the relationship between a coach and a runner is very important," Ngabo said. "We are working together and (Robinson) is doing a great job so far."
After a week off to rest up and prepare, the Bengals hit the road to run in the Brockport Golden Eagle Invitational on Saturday, Sept. 13in Rochester.
"My biggest challenge as a coach going forward is making sure they are ready," Robinson said. "I want them to peak out at the correct time and come together as 1 team so that they may elevate themselves to a championship level."
Email: [email protected]