Ailing Podolefsky steps down as president
Buffalo State will conduct search for replacement in the fall.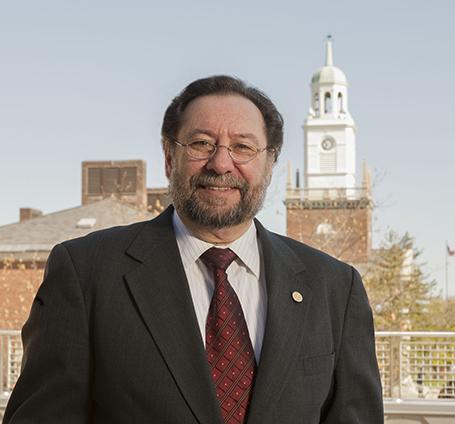 Aaron Podolefsky has announced he will step down as president of SUNY Buffalo State, effective July 31, to concentrate on his health.
Podolefsky, 67, disclosed in June that he would begin the fall semester on sick leave due to the requirements of treatment for his prostate cancer.
A search to identify Buffalo State's ninth president will begin this fall, according to a release by the college.
"In what has been a personally challenging and arduous journey, I've given long, thoughtful consideration to the next step on this life path and have concluded that my overall well-being and quality of life must be my first priority," Podolefsky said Monday in emails to Buffalo State faculty and students.
Howard Cohen, former chancellor emeritus at Purdue Calumet University, was appointed interim president of Buffalo State following Podolefsky's initial announcement in June.
Cohen will assume office on Aug. 1, as originally scheduled, and will remain at the position on an interim basis until the college identifies its next president.
"Aaron Podolefsky provided outstanding leadership in his three years of service as president of SUNY Buffalo State," SUNY chancellor Nancy Zimpher said in a release. "I join the students, faculty, staff and alumni of the campus as well as his colleagues across SUNY in wishing him the very best as he steps down to focus on his health."
Podolefsky, who became Buffalo State's eighth president in 2009, will be remembered for his swift contributions to the college.
In three years as president, Podolefsky orchestrated nearly $150 million in major renovations to the campus, including new student dorms, phase one of the Science and Mathematics Complex and the erection of the Technology Building, which will open to students this fall.
Podolefsky's ambitious visions for Buffalo State also led to its first comprehensive fundraising campaign, "Transforming Lives," and was instrumental in college's contributions to the surrounding West Side and Elmwood Village communities.
Podolefsky was diagnosed with prostate cancer in 2011 and underwent treatment while in office. He was absent from last year's commencement ceremonies because he was involved in a clinical study at the time.
"Please know this was an extremely difficult decision but necessary as I move forward with making a full commitment to my health," Podolefsky said in the email to students and faculty.
"
Serving as Buffalo State's president has been one of the greatest privileges in my professional life in public higher education.
— Aaron Podolefsky
"It's been an honor to have been a part of this exceptional campus community and to interact with so many outstanding, talented and remarkable students," Podolefsky's email continued. "From the first time I set foot on campus, I have felt at home and welcomed by you. My wife, Ronnie, and I will always be grateful for our time in the Buffalo State family.
"I've been tremendously rewarded and enriched in countless ways by my connections with all of you. I'm extremely thankful to have been a part Buffalo State's incredible history."
Brandon Schlager can be reached by email at [email protected].
Leave a Comment