On- and off-campus dining made easy with Bengal Bucks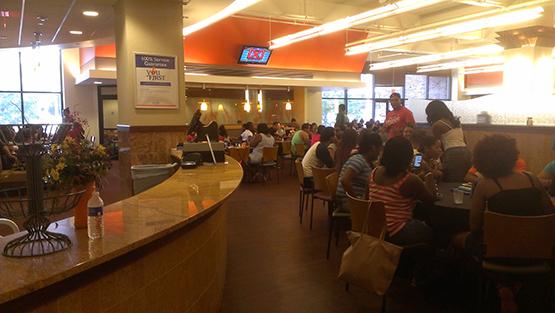 Bengal Bucks is a declining balance dollar amount that can be used both on and off of the SUNY Buffalo State campus.
At the beginning of the semester, each student who pays for a food plan starts off with a balance of $75.00.
Bengal Bucks can be used for various amounts of things. Seventy-five dollars sounds like a good amount of money, but over the course of a semester it can be spent faster than anticipated.
Buffalo State students love that Bengal Bucks can be used at all dining location, at the bookstore, the library, and any vending machine on campus. They can also be used to purchase tickets sold at Rockwell, the Burchfield Penney café and gift shop, and the student union. Off campus they can be used at select locations. Keep in mind that sales tax will be charged on all purchases made using Bengal Bucks.
With different places to spend Bengal Bucks, many new students tend to spend theirs quickly on food from the vending machines or local restaurants.
"Within the first week of school I spent most of my Bengal Bucks on Zonies," said sophomore, Jahnise Simpson.
What most incoming students don't realize though is that Bengal Bucks can be used for a means of transportation. Buffalo Transportation (Taxi Service) accepts Bengals Bucks, which can be great when traveling home on breaks or getting around The City of Buffalo.
The CVS on Elmwood avenue, Elmwood Taco & Subs, Feel Rite Fresh Market, Gelateria Luca, Gino's NY Pizza, Jim's SteakOut, Joe's NY style Pizza, Subway, The Chocolate Bar, Zonies, and White Rabbit Frozen Yogurt are all places that accept Bengal Bucks.
"I didn't really know what Bengal Bucks were," said Buffalo State sophomore, Malik Murray. "I simply thought of them as free money so I spent it all ordering food and buying snacks when I was up late at night, hungry."
Bengal Bucks roll over from semester to semester and from year to year as long as students remain at Buffalo State.
For some, they act as a safety net if the student ever runs out of money on his or her meal plan.
"Last year I changed my meal plan to the Student Apartment Complex and Moore Complex meal plan even though I lived in the Towers in order to save money," said senior, Bridgett Ramsey. "Towards the middle of the semester when I started running low on retail money I would use my Bengal Bucks to buy food or little snacks. My Bengal Bucks were definitely my back up plan."
Most of the off campus locations are on Elmwood Avenue with the exception of The Chocolate Bar and Feel Rite Fresh Market, in efforts to make traveling easier for students as well as the vendors who deliver but if there are any vendors you would like to see be a part of the program you can submit your request through the dinning website www.dineoncampus.com/bsc under the "Be Heard" tab.
Additional Bengal Bucks can be added at anytime by visiting www.dineoncampus.com/bsc, in person at E.H. Butler Library room 108, and at an Add Value Machine, located in the Student Union and the library.
While some students may blow through their Bengal Bucks during the first weeks of school, others will be stretching them throughout the semester. The choice is yours; make sure you choose wisely.
Email: [email protected]