Renovations for outdated buildings on campus to continue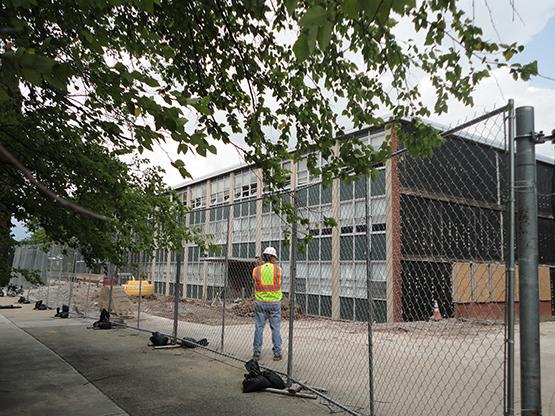 With major renovations to Houston Gym recently completed, SUNY Buffalo State has continued its multi-million dollar construction projects, with upgrades to many campus facilities underway.
Among the construction projects is the $21.2 million renovation of Caudell Hall, which began earlier this summer. The building, originally designed for home economics use, will house departments in the school of the professions, including nutrition and dietetics, social work and hospitality and tourism. The departments have been moved to other buildings for the duration of construction, which is set to finish in fall of 2016.
"For years, the facilities in Caudell, especially the culinary, were not up to industry standards," said Kevin Mulcahy, chair of the hospitality and tourism department. "This redo is going to be fabulous for us, because when we get back in 2016, we'll have the opportunity to have the most innovative and the best facilities around."
Those facilities include specialized computer and culinary labs. A large feature of the new Caudell Hall will be the culinary demonstration kitchen, which will open to the lobby of the building. It will be used for cooking demonstrations and for public events.
Mulcahy said the upgraded facilities would also be of benefit to students in the department.
"They're going to have access to better facilities which will give them a better advantage in the job market," he said.
Caudell Hall will also have an updated building structure, better utilities and improved energy efficiency. Steven Shaffer, design and construction manager at the college, referred to it as a "gut renovation" of the mid-20th century building.
Another large-scale project underway is the renovation of Tower One, which will be closed for the school year. Similar to the work done on Tower Four in 2012 and 2013, the updated building will include fully rebuilt bathrooms and public spaces.
Construction is expected to finish next summer.
The $30 million second phase of renovations to the Science and Mathematics Complex, which began last fall, will continue for another year. Phase two includes renovations to the Science 1 building, which will have new classrooms, clubrooms and labs, and will house the department offices of all the scientific and mathematics disciplines.
A contract was also recently awarded to build a new press box over Coyer Field, to replace the existing standalone structure on Grant Street. The project costs $1.9 million and is set to finish in the spring.
"All of these projects are designed to improve life on campus for the students, whether it's academic, or athletic, or special events or activities," Shaffer said.
Most of the construction on campus is funded through the State University Construction Fund, which works exclusively with SUNY campuses. Projects are occasionally funded separately through donations or grants.
"We're really excited because we haven't been able to do this kind of construction for many years," Shaffer said. "It's been wonderful to work on these projects."
Autumn Evans can be reached by email at [email protected]