UPD talks campus safety; students express positive opinions of UPD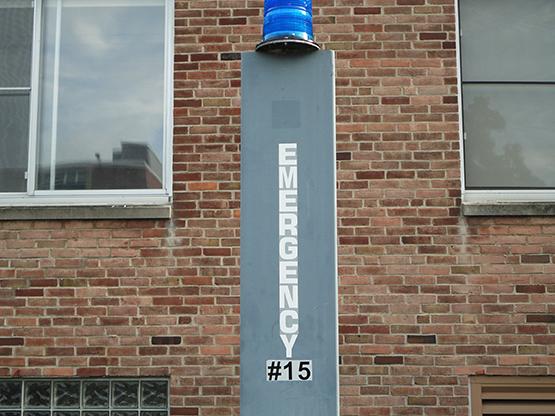 A series of rapes and sexual assaults that happened on Buffalo's West Side last month were cause for concern for many SUNY Buffalo State students.
The University Police Department (UPD) didn't alter their patrols when the attacks occurred, though chief of police Peter Carey said the department receives an intelligence briefing from City of Buffalo police daily.
Carey said the department doesn't increase security unless a crime is directly connected to the campus, though they may redirect patrols if there is a threat to students and faculty on campus.
Sexual assault on college campuses is a safety concern that frequently makes media headlines. A 2007 study by the Justice Department found that one in five women on college campuses have been sexually assaulted. Universities such as Harvard and Yale have come under fire for underreporting or mishandling sexual assault cases on their campuses.
Carey described the process a student at Buffalo State would go through after reporting a sexual assault on campus.
He said the first response would be to get them medical assistance at a hospital. If the victim wanted to press charges, a specially trained nurse would perform a rape kit exam. UPD would also ensure the victim is assigned a counselor from Erie County Crisis Services, and let them know counseling is also available at Weigel Health Center on campus.
If there is a suspect and evidence available, UPD can make an arrest. If the suspect is a student, they could also be suspended. If not a student, they can be banned from campus. The accuser can also press student judicial charges, which UPD would assist with. A police report is always filed. Additionally, because sexual assaults are covered under Title IX, it is reported to the Equity and Campus Diversity Office.
"We have a whole checklist of everything we do, we make sure that we inform the victim of all of their rights and all of the services available to them both on and off the campus," Carey said. "We have a pretty comprehensive approach beyond UPD in assisting victims of sexual assault."
Carey said that because of changes in the Clery and Violence Against Women acts, reporting methods have changed, but Buffalo State is in compliance with those changes.
"I would be proud to say that we have been progressive and ahead of the game in the college's response to sexual assault," Carey said. As a result, he said, victims wouldn't notice much change, and that most of the change is in reporting statistics.
"There will be a much more defined, comprehensive response on all college campuses," he said.
UPD offers Rape Aggression Defense (RAD) classes on scheduled dates or upon request every year. RAD is a 12-hour course broken into smaller sessions that teaches women self-defense tactics.
Since a certain number of participants are required for a class to take place, students can submit a registration form online, and when enough people have signed up, a class will be scheduled.
Campus safety, including preventing sexual assault, is one of the topics discussed by UPD at orientation every year.
Carey said UPD categorizes crime as one of two types: personal or property. He said property crime, such as burglary or robbery, was the most common type, but they educate incoming students on both at orientation.
The most recent campus safety report contains crime statistics from 2012, which showed 22 burglaries, seven robberies, six sexual assaults and nine aggravated assaults that occurred on campus that year.
"We make incoming students aware of all services offered, and encourage them to use those services," Carey said.
Those services include blue light phones located around campus, which provide a direct line to campus police. The phones also serve as stops for the campus's escort vans.
Carey also advised students to keep dorms locked, travel in groups at night and when going off-campus, and avoid wearing earbuds when walking alone. He said they should "walk with a purpose" and be aware of their surroundings from one safe point to another.
Students expressed positive opinions about UPD and their role in keeping the campus safe.
"They do a good job," said senior art major Kelly Donovan. "I would say UPD is kind of misunderstood. Some students complain that UPD doesn't do this, or doesn't do that… they're actually there more often than people think."
Donovan said she felt safe on campus, and the only thing she would change would be to have officers interact more with students on campus.
Incoming freshman psychology major Thomas Carmichael said she was impressed by the campus's security.
"It feels like this is a really safe campus," Carmichael said. "(UPD) seems like they're dependable if something were to happen."
Carey suggested students visit the UPD website at police.buffalostate.edu for campus crime statistics, a police blotter or for more information about staying safe on campus.
"Be aware of your surroundings, be comfortable, and just be smart," he said.
Autumn Evans can be reach by email at [email protected]