Cox's competitive edge leads to SUNYAC success following transfer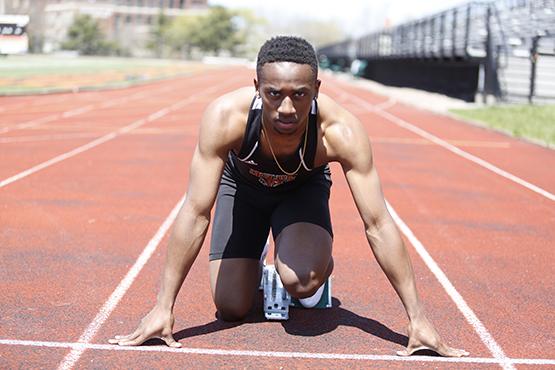 Junior track and field athlete Cory Cox likes nothing more than some competition.
Cox, who didn't get into track and field until he was in the ninth grade when he decided he wanted to play another sport during the football offseason, has already accomplished so much.
But he had to come along way first.
"I just tried it one year but I was terrible," Cox said. "The next year, my sophomore year, I tried it again and I still to this day have no idea why I tried it, but I actually came back and did better than I thought I could."
As the years went by his talent grew. During his senior year at East High School in Rochester, he won the state title in the long jump and was also named All Greater Rochester Athlete of The Year for indoor track and field—lofty accomplishments for someone who started the sport on a hunch three years earlier.
Cox went on to Mohawk Valley Community College where he would compete for a year. He had some interest from Division I schools such as UB and Central Michigan, and ultimately chose Buffalo State.
"I had to come to my senses," Cox said. "Thinking about the money situation and how even Buff State costs a lot, and I knew financially I wasn't going to do it myself. As soon as I got here I started thinking I only came here because the money situation but I actually started to like it and started to like the coaches.
"Then coach (Markus) Allen, he's a really good coach he stayed on top of me. I don't think any coach would've been on top of me as much as coach Allen has."
The decision has definitely paid off. Cox has only competed for Buffalo State for two years and is already a two time All-American in the long jump and also a SUNYAC champion for indoor track and field.
Assistant track and field coach Dustin Dimit knew Cox had the ability from the start. His skill set as well as the fact that he was a top-notch sprinter and jumper in high school really drew the coaches to recruiting him.
"He has a lot of natural talent and a pretty good work ethic as well," Dimit said. "He's a fierce competitor. When he's in there at a big meet like SUNYACs and Nationals he always makes sure he gets the job done and that's the difference, I think, between a great athlete and a good athlete."
Cox's teammate Rich Pete also echoed his coach's sentiment.
"He's a competitor," Pete said. "He's a diehard competitor, he hates to lose, and he's just a great person. He does whatever it takes for his team. Cory is like the ironman, he can basically do almost any event on the track if he puts his mind to it and he's going to go out there to win."
Pete has only known Cox from his time here at Buffalo State, but they did compete against each other in the high school state championships. The competition between the two continues today. Even though they're teammates, they have a friendly rivalry between each other.
"It began his first year here," Pete said. "(Cox) established himself as one of the top jumpers in the conference and as a teammate you want to be up there too. So the rivalry came when he won a couple then I won a couple and then championships came and we were like 'I'm not losing to you.'"
"It became more about us beating each other than beating the competition."
Pete doesn't believe that it has a negative effect on their performances, and Cox reiterated that.
"It definitely pushes us hard," Cox said. "Because no one really wants to lose."
Dimit and the rest of the team find the rivalry to be a source of amusement.
"It's always funny," Dimit said. "I don't know how many times we've seen one of those guys jump something and the other one beats him by like two centimeters. They're just leaving it all out there. A lot of the time they're one and two at the meet too so they want to be the one who gets the win, they don't want their teammate getting it instead of them."
The rivalry plays a big part in Cox's performance but he also has another motivation: he hates to lose.
"I just like winning," Cox said. "If I can come in first place or even top three knowing I did my best I like doing that. I love the feeling of knowing that out of one hundred athletes you came out number one, that's the best feeling ever, honestly."
Dimit has seen Cox's ambition in the way his game has evolved since he arrived at Buffalo State.
"He's definitely got a much better work ethic," Dimit said. "When he first got here he relied too much on his natural talent and not as much on getting in the weight room and doing all the little things. He's getting better and continuing to improve."
Cox's mother is also one of his big motivations and he never wants to let her down, he credits her with being the biggest influence that has gotten him to where he is today.
"My mother is constantly on my back," Cox said. "She asks me about every meet and she knows she cant make it to every meet but anything close to home like an hour or two hours way she comes and she brings my whole family. She always calls me and asks how I'm doing if I'm injured and if I need anything."
Cox has already accomplished a lot and has no plans on slowing down. He has many personal goals but his main goal is to become a national champion before his time at Buffalo State is over.