Backstage pass to campus catwalk: Runway 7.0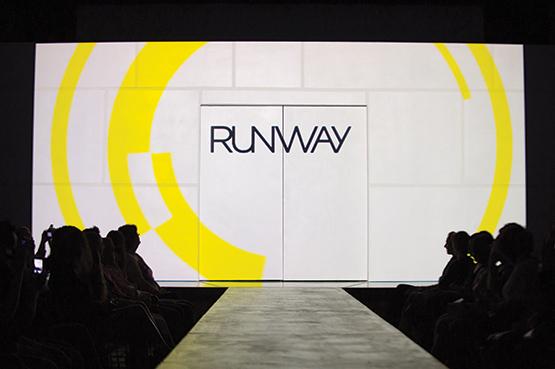 With some stitching, sheers and the shedding of maybe a few tears, the ladies of the fashion department are ready to present their collections Saturday night in SUNY Buffalo State's annual Runway 7.0. Even if they're not ready, the show must go on.
This is the seventh year the fashion department is having Runway. This year's show is entitled "Chrysalis."
"Chrysalis is the rebirth," production manager Taliek "T.J." Singletary said. "Like a caterpillar into a butterfly."
Singletary is a junior individualized studies major who dreams of going into event production. Fashion has always been a passion of his, and in the past he has helped out in multiple shows, but Chrysalis has really become his "baby" and he has taken on producing the show since the beginning of last semester.
As he sat in one of the rooms between the designing classrooms, a white, brightly lit space with two mirrors used for fitting models and a few mannequins in sight, Singletary talked about the Technology building and how it in itself is a work of artistic design.
"People come in here and are like, 'Oh, what's this?'" Singletary said.
The classrooms are huge, with new sewing machines, designing supplies, mannequins and anything else you could find in a design studio. Indeed, the fashion and textile technology major is becoming bigger here on campus, and the new technology building speaks for that.
"This year the fashion program became a department in the school," Singletary said. "It's the fastest growing department at Buff State right now."
And as the department grows, so does Runway.
Runway consists of 20 designers, five of whom are senior designers. The rest of the designers are alumni and underclassmen, as well as some faculty.
Singletary said in terms of promotion, he is excited to work with many sponsors this year, including the Eastman Foundation, Lloyd Taco Truck, and New Era.
The event itself is a senior showcase and seniors will compete for scholarships. There will be a Best in Show prize given, as well as other prizes including a mannequin, dress form, sewing machine, and $1000 cash prize.
Singletary said the competition is really tight, and on top of everything, the designers get graded for their work, including Singletary himself.
"I get graded for producing the show, so I have to make sure this is a great show," Singletary said grinning.
Singletary is proud of all the work that has been accomplished so far, but said that communication has been his biggest challenge.
"This is a hard task to take on with being a junior with six classes, also producing my own fashion show outside the school and I'm in charge of 19 other people on the team," Singletary said. "Communicating to everyone and putting their parts together to create a cohesive show is the hardest aspect of creating a show of this caliber."
But Singletary loves all of the designers and has nice things to say about each of their works. He said an opportunity like this shows those outside the industry what designing is all about.
"It gives you a real-world experience," Singletary said. "On multiple levels, everyone thinks that fashion is, 'Oh, pretty, let's be pretty, let's just put these things together,' but the amount of work that it takes to make these garments is very time consuming and hard."
And speaking with some of the female designers, you can sense two things: they're tired, but they're driven.
Each has been creatively planning and sketching since the beginning of last semester. They have spent the past three months constructing and executing their looks. They have spent numerous hours in the Tech building, which essentially has become their home away from home. Each with their own styles and unique visions, the girls gave the run down on what they will be sending down the runway.
Senior designer Laura Piccirillo's collection is entitled "Trichromatic." She wanted to make a collection that reflected the way humans literally see the technological world.
Piccirillo said she used a lot of sheer organza and iridescent silk, which she said is a hand woven Indian silk that's very expensive, plays with light a lot and adds color on top.
She describes her style as "genderless" and in a way "androgynous," and said she also uses a lot of boxy silhouettes.
"I didn't do any feminine drapes," Piccirillo said "Just bold colors. I just really wanted to tell a story."
Piccirillo has an advantage in that she was given a grant for a custom print from a website called Spoonflower, where you can upload your own patterns and illustrations and it prints the art for you on wallpapers, wrapping papers and more. She emailed the website about Runway, and it awarded her the grant.
"So I have an original iPattern for a collection, which is huge for my collection," Piccirillo said.
Piccirillo said the production team has been great to work with, and she and her fellow designers have formed great relationships.
"The designers become your only friends because you're basically sleeping here at times," Piccirillo said.
According to Piccirillo, everyone had to be done with their garments a month ago and they aren't allowed to touch them, so it's all a matter of getting prepared and selling tickets now. Coming up first on the runway, she is aware of the pressure.
"It's very nerve wracking," Piccirillo said. "But I'm more ready than I'll ever be."
She added how stressful judging has been even before they hit the runway, saying that random judges from places like New York and Mississippi were flown in as a panel recently.
"They basically told us if we are accepted into our own show or not," Piccirillo said.
Some of the designers were actually told the truth that their collections wouldn't cut it in the fashion industry, and they were stripped from their senior designer title.
Piccirillo admits she was like a deer in headlights with this collection. She spent the majority of her first few years in general education courses and had to cram in all the technical work in her last years. That meant watching YouTube tutorials and playing catch-up, but she had some help along the way.
Fashion and textile technology chair Dr. Lynn Boorady was her mentor throughout the process.
"I would be texting her until midnight, 'Dr. Boorady, how do you do this?'" Piccirillo said. "I learned so much and I thank her a lot for what I've gained."
Senior designer Meizhen Lin chose a different approach from the other designers for her collection called "Flower of Sea," which features bridal wear made from scratch with a lot of hand stitched pieces. Lin infused both of the cultures she identifies with, saying she was inspired by her Chinese culture, but she connects herself with American culture as well having moved here seven years prior.
Each dress features a flower design on it. Lin said when she thinks about flowers, she thinks about lace, which is a primary material she used in the construction of her dresses.
She said her collection represents the process of transformation.
"It talks about the transformation of a girl from a different country to another country," Lin said. "It also talks about the transformation between a single woman and marriage."
Essentially, her collection tells the story of change in girls of different ages, at different times in their lives. The garments are all considered wedding dresses, but Lin insists they're not traditional wedding dresses. They are made out of two colors: red and white.
"You can say wedding dress or evening gown because there's red in there," Lin said. "But it's not your typical wedding dress."
According to Lin, in China they wear multiple garments on a wedding day. Maybe during the day the bride wears a white garment, then later, at the reception she wears a red garment.
"I want it to be sexy but not too exposed," Lin said of the allure in her collection. "Elegant is the key for this whole collection. I want it to be pretty. I want you to walk down the stage and be the prettiest one of the day."
Lin said she likes to design with chiffon, silk, and lace, which is her favorite.
"Every time I look at (lace patterns), they just bring me inspiration," Lin said. "Each lace goes with a different dress. It might go with one, but it doesn't go with another. Each lace has a story."
Lin said it's no secret how much time they have spent in this building and summed up the experience with her fellow designers in one simple sentence.
"We're less like classmates, more like a family together," Lin said.
Senior designer Rachel Hamerski collection is entitled "Chrysalias."
"Chrysalis is us emerging as a department," Hamerski said. "And alias is something you emerge from, like a different name. So that's why I named it that."
She said her pieces are inspired by the symmetry of nature, with lots of symmetrical ink block prints from Rorschach's psychology cards. She uses a lot of cotton, a lot of leather, and primarily reds and blues for color.
She describes her style as contemporary modern and very trendy.
"My clothes are very wearable and they can be commercial," Hamerski said.
She agreed with everyone that communication is key, as well as one of the biggest challenges.
"It's a whole big team so were just trying to work together as best we can, getting the communication flowing," she said. "There's a lot of planning that goes into it."
Hamerski said she is ready for Saturday and is focused on getting all of the loose ends tied up, as well as selling tickets and promoting.
Junior Meghan McNicholl's collection is called "Hatched Couture." She was inspired for her collection by the idea of Chrysalis.
"I was looking at hatched egg shells and I wanted to base my collection on the evolution of a bird, with how it goes from an egg to being born," McNicholl said.
She described her style as bohemian and said she likes mixing the use of hard and soft materials.
"There's sheers, twill and some cottons in there," she said.
The time consuming hours were challenging for McNicholl, but the time that she got to spend with the senior girls is something she won't forget.
"Everyone in my senior project is great," McNicholl said. "We all help each other and support each other a lot."
The lights shut off and the runway opens May 10 with two shows, at 3 p.m. and 8 p.m, in the union's Social Hall.
Email: [email protected]