Second presidential candidate visits campus
Miller interested in Buffalo State for diversity and community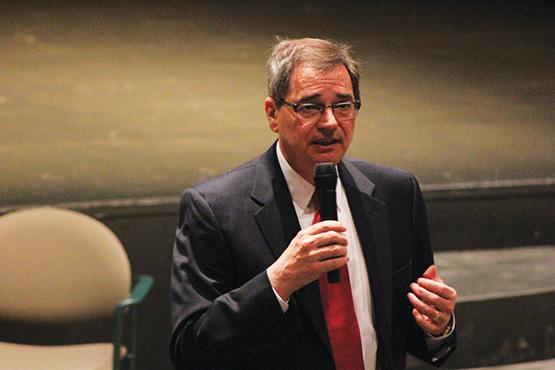 University of North Carolina Wilmington chancellor Gary Miller came to SUNY Buffalo State Tuesday to present himself to the campus community as a finalist in the search for a permanent president.
Miller was asked by the presidential search committee to share his life experiences, relate how they have prepared him to be the institution's president and share his thoughts on Buffalo.
"I love it, it's a fabulous place," Miller said. "Every one I know who lived here wanted to move back, now I understand why."
Amitra Wall, associate dean of intellectual foundations in University College, asked Miller what he would do as president to retain and recruit professors of color.
"Maintaining and recruiting faculty of color has to be a priority in the president's office," Miller said. "There has to be a commitment on everybody's part that every time we hire, we have a diverse pool."
While the institution is not allowed to hire on the basis of race, Miller said that every study he has seen suggests that if you succeed in getting a diverse pool of candidates, you will eventually change the situation. He said that in the past, he has halted searches to use different recruitment strategies that provide more variety in candidates.
Athletics director Jerry Boyes asked Miller how he would engage the campus in solving the ongoing challenge in raising enrollment.
Miller said engagement on campus is the key to reversing the enrollment decline.
"In order to manage enrollment fluctuations in this kind of environment, it's got to be a team effort," Miller said.
Miller said that at a previous institution that he worked at, the enrollment group met every week.
"We're going to solve enrollment," Miller said. "The questions around it have to do with the principles that we want to invoke."
He said that how big Buffalo State wants to be to be considered, along with what kind of class size it wants down the road and what the geographical commitment is. Also, he said various issues of quality that the institution wants to recommit to should be considered.
"Your enrollment issue is relatively recent," Miller said. "The narrative about Buffalo State College is not going to be about enrollment, it's going to be about Buffalo State College."
Miller said he's going to bring an analytical approach to the problem. He said the college would have to know exactly whom they are trying to recruit so that the probability that people will enroll can be better predicted.
Miller is currently also one of three presidential finalists at Youngstown State in Ohio.
Felix Armfield, associate professor of history, asked Miller why he is interested in Buffalo State.
"Higher education is in a huge transition," Miller said. "Buffalo State sits right at the focus of virtually every major challenge we have. It's in a city, it has a long history of academic quality and it has a long history of access in diversity."
Miller said Buffalo State is interesting because it serves so many different kinds of students like transfers, first generation and adults.
Miller said he has a deep passion for the undergraduate experience.
"I bring to you a deep commitment to mentors and teachers because they have transformed my life," Miller said.  "And I bring to you a deep commitment to service and citizenship because in that way I am helping to transform lives."
The search for the next campus president will resume on Thursday.
Leave a Comment