Bacteria levels in Science Building drinking water far exceeded healthy limit, documents show
SUNY Construction, campus still trying to figure out best course of action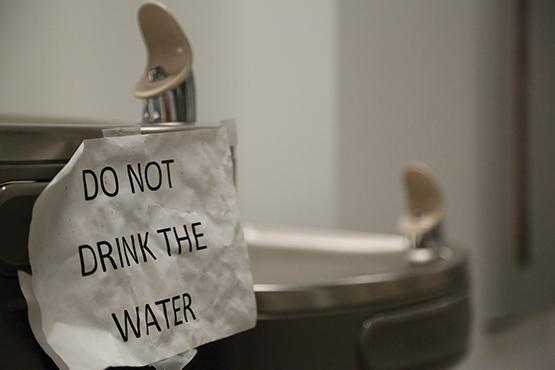 We now know just how bad bacteria levels in the Science Building water actually were thanks to documents provided by SUNY.
As a result of a Freedom of Information request seeking any records relating to the bacteria levels in the water, the SUNY Construction Fund has provided a history of the building's water quality.
The problem was discovered in March 2013 when Professor Gary Pettibone's BIO 316 General Microbiology students conducted a routine exercise involving tests of the buildings water systems. All nine of the student samples came up positive for the presence of bacteria.
The Environmental Protection Agency has a maximum allowable level of 500 colony forming unites per milliliter of water (cfu/ml) in public water systems. The results from the students' test samples ranged from 240 cfu to 1600 cfu in every 100 milliliters of water. Samples were taken from drinking fountains, restroom faucets, a prep room, and a distilled water tap.
Once alerted to the problem, the SUNY Construction Fund along with consultants Cannon Design, Watts Architectural, and Engineering Architecture tested samples on April 4, 2013. All but two of their samples tested below the allowable 500 cfu/ml. The two samples that didn't meet EPA standards measured in at 2952 cfu/ml.
At this point, signage was placed in the building advising students and staff to avoid drinking any of the water. SUNY Construction then contacted Danforth, the building's plumbing contractor, to begin a "superchlorination event." Additional testing was performed and five out of 32 samples came up with bacteria levels above EPA standards. A second "superchlorination event" took place April 30, 2013 after which two out of 61 samples exceeded normal levels of bacteria.
Testing from all parties continued throughout May, June, and July 2013 at which time Danforth withdrew from the team. Documents from SUNY construction state the reason for the departure was "they no longer felt it was their responsibility."
In July 2013, Cannon Design recommended that a special water quality firm, Legionella Associates, be hired to assist with the problem. Legionella advised a daily flushing of water lines as well as the installation of chlorine injection equipment to provide steady chlorine concentrations.
Between August 2013 and February 2014, over 1800 samples were taken and none were above the EPA's 500 cfu/ml standard.
Buffalo State and SUNY Construction met February 26 to discuss the next steps in addressing the problem. According to SUNY Construction documents, "there is a consensus that adding chlorine and flushing the water is not a desirable exit plan." Both the college and the fund agreed that procuring a second opinion from another water quality expert should be conducted.
According to Steve Shaffer, manager of design and construction at Buffalo State, SUNY Construction has sent out a Request for Qualifications and Proposals from water quality experts.
"Those are due in a few weeks," Shaffer said. "After which both the college and SUNY Construction will jointly select the most-qualified firm and then begin the new process of evaluation and remediation."
SUNY Construction is also compiling additional records relating to correspondence on the issue between Buffalo State and SUNY. The Record will follow-up with any additional notable findings when they are received.
Email: [email protected]
Twitter: @MikeVProvenzano
Leave a Comment